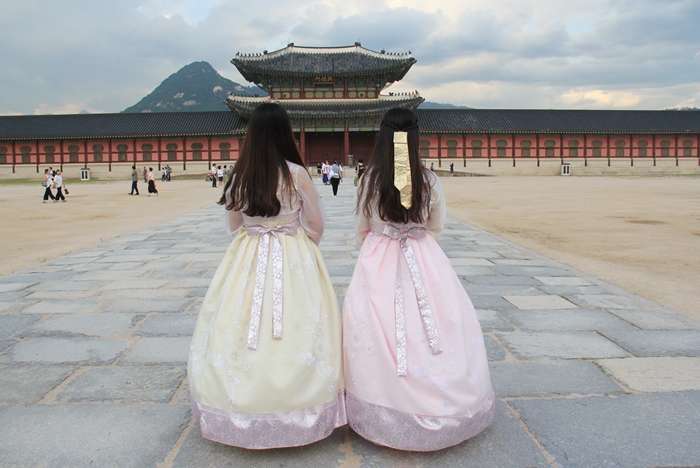 Tourists walking around in Hanbok attire are being seen more and more these days in Seoul's palaces and other famous sites.

Since 2013 when the palaces began to offer free entrance to visitors wearing Hanbok, getting dressed in traditional clothes has become one of the must-dos for travelers to Seoul.

Many Hanbok rental shops are prepared with a wide range of styles and have opened near Seoul's palaces. More and more tourists from home and abroad are wearing colorful Hanbok as they stroll through the beautiful Joseon palaces.

However, there are some criticisms that such Hanbok styles aren't truly "traditional."

Some critics say that the most common forms of Hanbok rented these days were simply clothes worn by Joseon female entertainers, not by the upper classes or nobles. Others say that these forms of Hanbok are strange or even Western, rather than properly and traditionally Korean.

On Aug. 11, a workshop was held at the Jongro-gu District Offices in Seoul to discuss the issue. Jongro-gu is home to most of Seoul's famous Joseon palaces.

Park Chang Sook is president of the "Our Traditional Costume Proper Guidance Association." She delivered a lecture and pointed out that most rental Hanbok shops used by tourists these days are breaking the proper customs of traditional Hanbok attire. She said, "Hanbok is not a type of clothing decorated by patterns and designs, but one with elegant colors." She urged that Hanbok attire should be developed in a way that does not break the basic concepts of the traditional forms.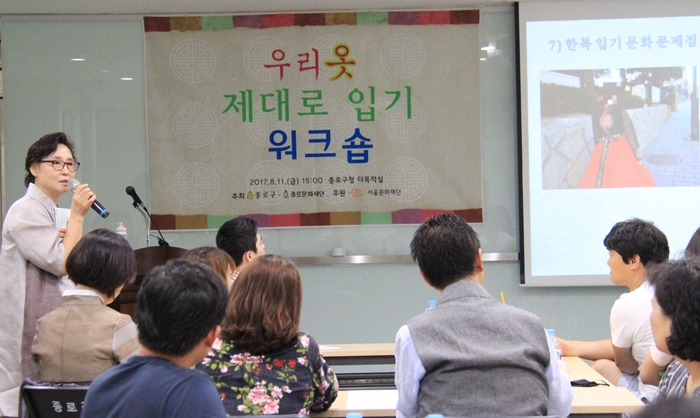 Many rental shop owners who attended the event did not agree with her.

Lee Hae Mi, owner of the Hanbok shop Saimdang, said, "It's better for Hanbok to be worn in some form than to be completely forgotten." She insists that Hanbok should be easy to wear and that it could be familiarized even more by offering a range of different designs.

She and other shop owners believe that modernization is better for the survival of the traditional clothing form than to keep its strict rules, such as keeping the order of tying the daenim ankle bands and breast-knot. .

Some people said that improvements could be found elsewhere. Chung Ji Yoon, owner of the Hanbok rental shop Funday Korea, said that many international tourists want to wear modernized Hanbok because they've seen it in Korean soap operas. Therefore, he said, the clothes that appear on the shows should be corrected first to change current trends.

It's not an easy job to apply tradition to modern life.

In China and Japan, the fusion of traditional and modernized Western outfits can also be found. The Chinese fashion brand Sanghai Tang won popularity in many countries thanks to its products that applied modern touches to the traditional Chinese qipao dress from the 1930s. The Japanese yukata garment has also become easier to wear by replacing the complicated process of knotting the obi belt, which usually requires another person's help, with simply applying a pre-made bow.

Much effort will be needed to preserve Hanbok's characteristics as well as continuing the growing trend of wearing Hanbok.