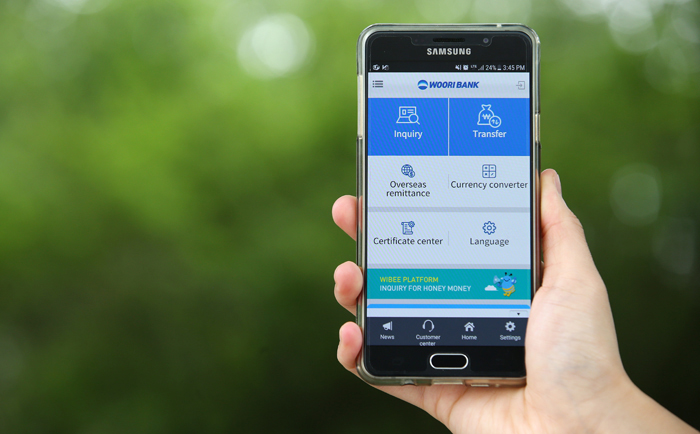 Since 2013, Woori Bank has been providing its Woori Global Banking services to its non-citizen customers. It allows them to do regular banking business on their smartphone through the app. The service is available in eight languages, including English, simplified Chinese and Japanese. (Jeon Han)
By Sohn JiAe

As online-only banking proliferates across the Korean finance industry, more and more non-citizens living in Korea have been facing technical difficulties registering their apps and devices.

Online-only banking services started their newest phase this year with the launch of the "K Bank" app on April 3. Then, the "Kakao Bank" app, which has drawn an astronomical number of customers in a short period of time, building off the base laid by the Kakao Talk chatting app, was unveiled on July 27.

However, potential non-citizen customers, whether they be Korean residents or simply users of the Kakao Talk chat app, are not allowed to log in to the financial services since the software does not allow such users to have their ID verified on their device.

In order to use either the K Bank or Kakao Bank app, such non-citizens have to register the app with their own national ID card. However, the software does not yet have access to the non-citizen national ID card database. Therefore, technically, the app cannot recognize their IDs.

To capture such neglected customers, some of Korea's leading banks have been offering more effective and more suitable mobile banking services, moving into this niche market.

Good examples are the Woori Global Banking app that Woori Bank has had since 2013, and the Shinhan Global S Bank app launched in January by Shinhan Bank.

The first thing for an app user to do is to visit a nearby bank, have their ID verified and have a public certificate issued for a new bank account. They then download onto their device the app, available in a range of languages, including English, simplified Chinese and Japanese, linking the certificate to the device. Now they can bank at any time and any place, such as check their balances, and transfer money both at home and abroad, anywhere they have a Wi-Fi connection.

The banks also plan to further diversify and develop their mobile banking services for their non-citizen customers.

"At the moment, a public certificate is required when you log in to the app, but this will soon change. Within the second half of the year, the app will get much easier to use, allowing users to use a six-digit PIN to log in," said an official from Woori Bank.

"Shinhan Bank will continue to develop banking services designed to meet the needs of the non-citizen customers that we have," said a Shinhan Bank representative.

In today's financial industry, leaping forward with the advent of online-only banking, the nation's major banks still have to find ways to live up to the needs of non-citizen customers who are neglected by this new progress. Now is the time for more banks to take a broader view to globalize their operations.