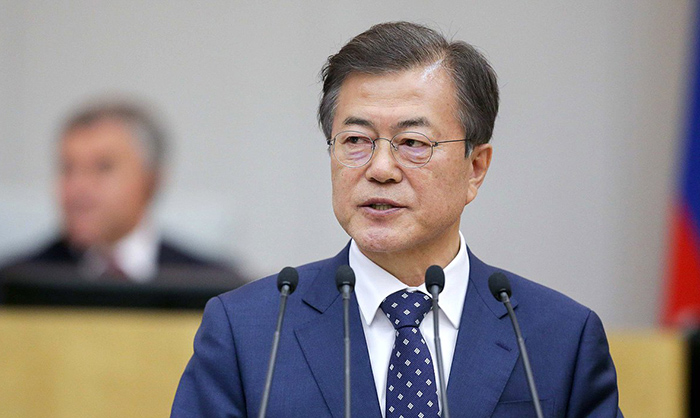 President Moon Jae-in outlines his willingness to bolster Seoul-Moscow cooperation in his speech at the State Duma of Russia in Moscow on June 21. He is now the first Korean head of state to ever address the Russian parliament. (The State Duma of Russian Federation)
President Moon Jae-in, currently on a state visit to Russia, reaffirmed his desire to strengthen Korea-Russia cooperation in line with his commitment to foster trans-Eurasian cooperation, in Moscow on June 21.

As the first Korean head of state to ever address the State Duma in Russia, President Moon praised Korea-Russia cooperation, saying that it is the "cornerstone of peace on the Korean Peninsula and prosperity across Northeast Asia."

"I hope that South and North Korea will be able to join in developing the new potential of Eurasia and achieve mutual prosperity for the region," he said.

Mentioning the Seoul-Moscow diplomatic relationship that will mark its 30th anniversary in 2020, President Moon said, "Our two countries have mapped out concrete plans to strengthen cooperation on the development of Eurasia and to achieve USD 30 billion in trade between each other and 1 million people-to-people exchanges per year by 2020."

In order to expand Seoul-Moscow cooperation, President Moon highlighted three future channels for growth: expand future-oriented engines of economic growth, seek economic development and cooperation in the Russian Far East, and strengthen the foundation for promoting exchanges that will enhance the welfare of both peoples.

To expand future-oriented engines of economic growth, Korea and Russia will jointly build a Korea-Russia Innovation Center in Korea and a Korea-Russia Science & Technology Cooperation Center in Moscow.

Concerning the Korean Peninsula, President Moon praised the latest developments in the region, saying that "a great historic transformation is now underway."

"Now, the two Koreas and the U.S. are leaving the dark days of war and hostility behind and moving toward an era of peace and cooperation," he said.

The president also expressed his appreciation for Russia's contributions, saying, "The active support and cooperation of the Russian government and people has become a huge force behind this amazing transformation."

"When an environment of peace is established on the Korean Peninsula, inter-Korean economic cooperation will begin in earnest and will be expanded to three-party cooperation among the two Koreas and Russia," he said.

Mentioning railway networks as one of the promising sectors for tripartite cooperation, President Moon dubbed the Siberian railway as a path "that connects the East and the West in the middle of Eurasia. It is the very gateway that opens an era of Eurasia."

President Moon concluded his speech by expressing hope for this concept of Eurasia. "There lies a new hope for humanity in Eurasia where nature and people coexist. Russia and Korea will walk together toward an era of peace and prosperity, moving beyond an era of war." President Moon's speech lasted 18 minutes, and members of the Russian parliament applauded him seven times, including three standing ovations.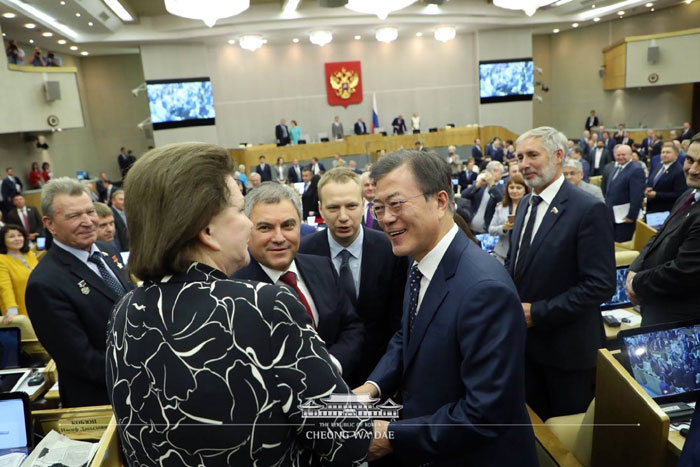 President Moon Jae-in is greeted by members of the Russian parliament after finishing his address at the State Duma in Moscow on June 21. (Cheong Wa Dae Facebook)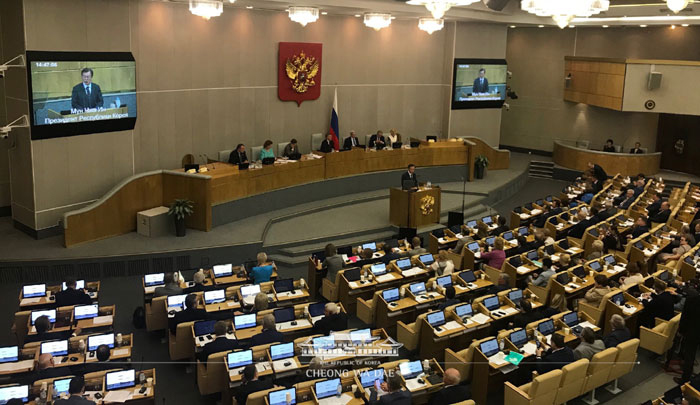 Members of the Russian parliament listen to President Moon Jae-in's address on June 21. (Cheong Wa Dae Facebook)