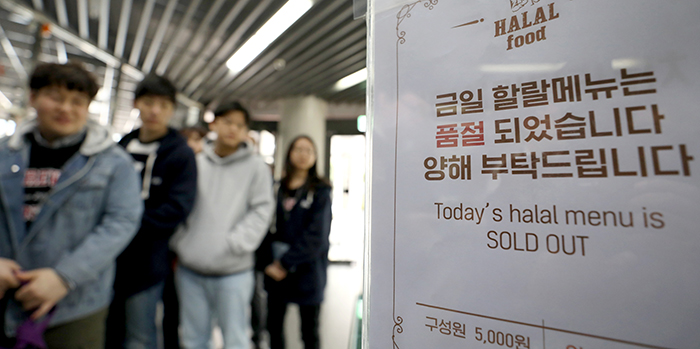 As the 200 servings of halal food -- today, it's chiken tikka masala -- are sold out within an hour, Seoul National University (SNU) students face a sold-out sign in the Gamgol Cafeteria at Seoul National University (SNU) on April 10.
"Every single day, I eat halal food for my meals."

Seoul National University (SNU) has introduced halal options at its Gamgol Cafeteria starting April 2. Kil Jun Hong, a medical student there, shared his love for halal food when Korea.net asked him to comment on it on April 10.

The word "halal" in Arabic simply means "permissible," and more specifically it refers to food and drink that is permissible or lawful according to traditional Islamic law. The opposite of halal would be "haram," which means forbidden or unlawful. Pork and liquor, of course, are haram.

On this day, contrary to expectations, there were more non-Muslim Korean students than Muslim non-Korean students eating in the halal food corner. The daily 200 servings of chicken tikka masala, all properly prepared according to halal rules, were sold out in under an hour at the Gamgol Cafeteria.

Some of the university students that had waited in line to try the halal meal seemed disappointed as the sold-out sign was hung on the meal ticket vending machine.

Jeon Ji Min, a geography student, was familiar with halal food. "I've tried halal food before, during a trip in Albania, where 70 percent of the population is Muslim. The curry plate offered today seems exotic from its appearance, but the taste is actually quite similar to ordinary Korean curry, so it won't taste strange to us."

Since most of the students are not familiar with Islamic dietary laws, the students searched for the meaning of halal on their phones as they enjoyed their lunch.

Bae In Hwan, who studies communications, said, "I became interested in trying some halal food because I've heard that special halal dinnerware is used in the cafeteria." He further said that he liked eating halal food in the cafeteria, saying that, "Trying out halal food that's cooked in the Islamic way is a great way to experience cultural diversity."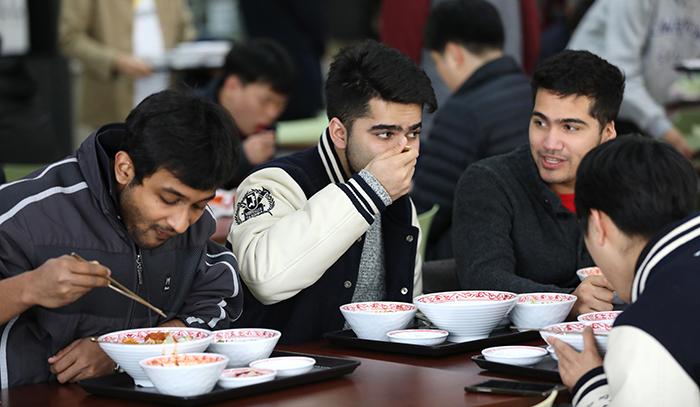 Adil Qayyum, an engineering student from Pakistan, enjoys some halal chiken tikka masala with his friends at the Gamgol Cafeteria on April 10.
The halal food corner at the Gamgol Cafeteria has gone viral among Muslim students at SNU who used to have difficulties finding proper food. Now, it's a meeting point for Muslim students during their lunch, since they don't have to wonder anymore about where they could go for lunch.

Zulfiqar Ali, an engineering student from Pakistan, expressed his delight, saying that, "The Gamgol Cafeteria is a hot topic in the group messaging board for Muslim students here. Before the halal corner opened, we had to go all the way to Sillim-dong or Itaewon just to eat. Although the food isn't as authentic as it is back home, I plan to eat here every day."

With around 300 Muslim students, SNU opened the halal food corner on April 2. The price of one meal is KRW 5,000, a bit cheaper than meals at other halal restaurants in Seoul.

Kim Tae Sook, the head of the SNU Cooperative, said, "On the first day after launching the halal corner, 100 servings were immediately sold out in 30 minutes. Due to the high demand from both non-Muslim and Muslim students, and from both Koreans and non-Koreans, we decided to increase that to 200 portions. From now on, we hope to develop a menu of Korean food made according to halal regulations, so that our Muslim students can both enjoy Korean food and adhere to Islamic law."
Korea.net