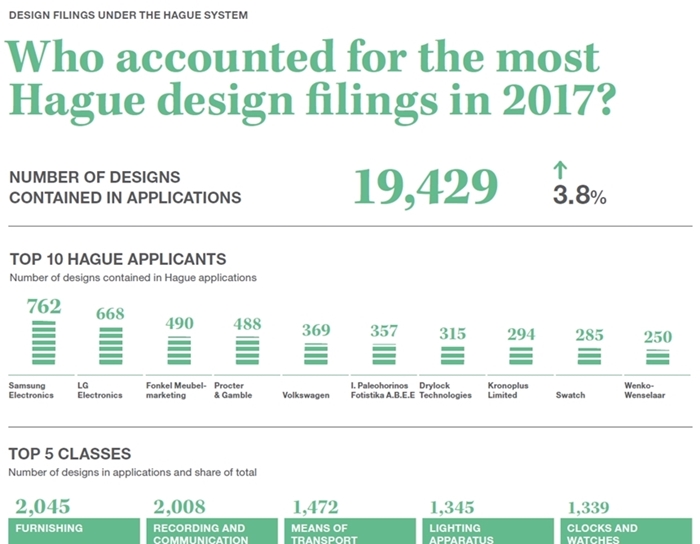 Samsung Electronics and LG Electronics are ranked in first and second place, respectively, in the 'Top 10 Hague Applicants of 2017.' (WIPO)
Korea's two leading tech giants, Samsung Electronics and LG Electronics have topped the world's list of international design patent applications.

According to the "Design Filings Under the Hague System" report for 2017, released on March 21 by the World Intellectual Property Organization (WIPO), Samsung toped the chart with a total of 762 patent applications, followed by LG with a total of 668 design filings.

WIPO's Hague System is an international registration system that allows design right-holders to obtain protection in multiple member-states of the Hague Agreement Concerning the International Registration of Industrial Designs, with only one single application. The applicants don't need to designate a patent agent in each country and only have to submit an application form to their local IP office or to the WIPO international office in their region, which then will proceed with simultaneous patent filings both at home and abroad.

Before Samsung placed in first place last year, the tech giant took first place back in 2015 and was in second place in 2016. The runner-up, LG, was ranked for the first time in 2016 in third place.

By country, Korea filed a total of 1,742 designs and took the third place for two consecutive years. Germany took the lead with 4,261 designs, followed by Switzerland with 2,935 designs, the U.S. with 2,661 designs, and France with 1,396 designs. Japan remained in the seventh place with 831 cases.

Finally, Hague member states constitute 53 countries, including European nations, the U.S. and Japan. China plans to join the system, too. Korea joined in July 2014.

Korea.net