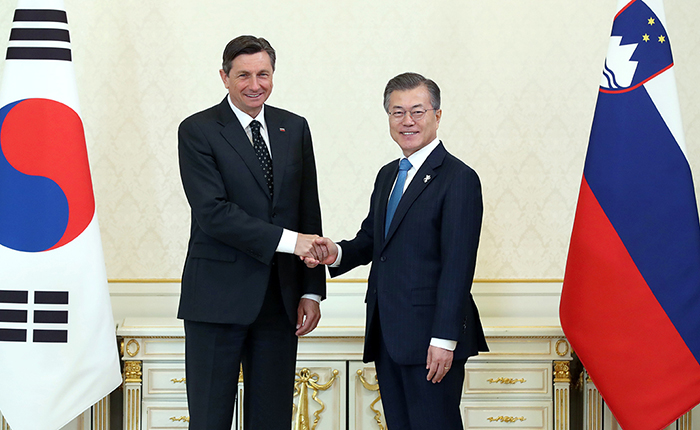 President Moon Jae-in (right) shakes hands with Slovenian President Borut Pahor prior to a summit at Cheong Wa Dae on Feb. 20. (Cheong Wa Dae)
President Moon Jae-in met with his Slovenian counterpart Borut Pahor, on a state visit to attend the ongoing PyeongChang 2018 Olympic Winter Games, in Seoul on Feb. 20. In the summit, the two leaders talked about ways to further develop bilateral cooperation on North Korean policies, trade, investment and other areas of mutual interest.

President Moon said that his government would work to make inter-Korean dialogue, which had been made possible due to the PyeongChang Olympic Games, lead to resuming dialogue between the U.S. and North Korea. It would lead to resuming talks on nonproliferation across the Korean Peninsula, he hoped. The president then called on the Slovenian government to join in these efforts, too.

"Your visit to Korea this time has given us the strength to make the PyeongChang Games a global sports festival for peace and unity for mankind. Your visit, in particular, will set a milestone in our bilateral ties, for sure," he said.

President Pahor said, "I see hope in the way in which President Moon is pursing policies to address issues without the use of force. I fully support your courage and determination to actively and consistently seek dialog with the North and encourage neighboring countries to join your peaceful approach."

Korea and Slovenia have long maintained active exchanges, as evidenced by the volume of trade that has grown more than 10 times over the past 10 years.

Recently, the two countries have seen cooperation on areas of future growth, like manufacturing and medicine, grow significantly.

For this reason, the leaders vowed to cooperate more on the logistics industry by means of the Koper Port, often seen as a route for shipping and overland transportation that many Korean car and steel companies require to make inroads into Central and Eastern European markets.

The summit also brought about the signing of the Korea-Slovenia Social Security Agreement through which the two countries agreed to exempt their nationals who are working or running businesses in the other country from having to pay national pension contributions for five years. Under this agreement, during the period in which the workers pay into the national pension in the other country, their payments will be recognized as contributions to their home pension system.
Korea.net