A special promotional train for the PyeongChang 2018 Olympic and Paralympic Winter Games has been launched in Germany to support the upcoming winter sports gala.
On Jan. 29, Germany's national railway company, Deutsche Bahn, started running a gold-colored train inscribed with the phrase "Time for gold!" (금메달을 향하여), just 11 days before the Opening Ceremony of the Winter Olympics.
The golden train is a remodeled version of the company's electric locomotive DB Class 101 (Baureihe 101). The phrase "Time for gold!" is written in Korean, German, English and simplified Chinese on its body. The train is being run to promote the upcoming Winter Games and to act as a rolling ambassador for all Olympic athletes.
"The number of athletes Germany sent to Korea is greater than the total on Team Korea," said Jong Bumgoo, the Korean ambassador to Germany, at the launch ceremony attended by officials from Deutsche Bahn, the International Olympic Committee and former German Olympians. "This train will operate in order to represent the German people's wish for a great haul of gold medals at the Winter Games."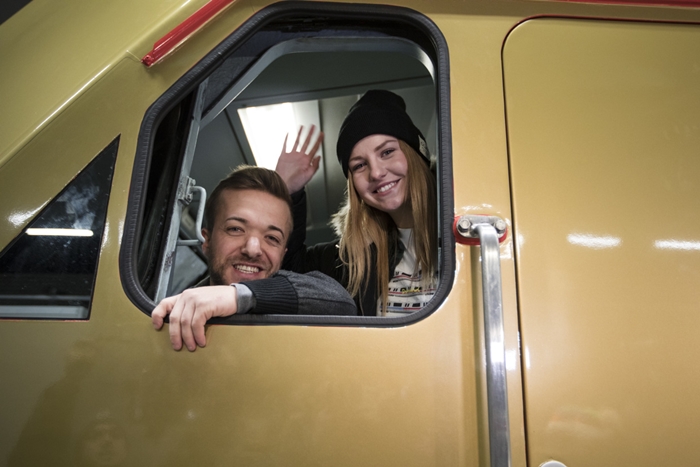 The first passengers on the special promotional train for the PyeongChang Winter Games, Mathias Mester, a former Paralympic athlete, and Kelly Svirakova, a web-video producer, wave their to the crowd as the train departs. (Deutsche Bahn AG / Pablo Castagnola)

The first passengers to ride on the special train were Kelly Svirakova, an online video producer, and Mathias Mester, a former Paralympian.

The two passengers each wrote on their social media profiles about the train on Jan. 30. Mester said, "I'm leaving for Pyeongchang, the city of the Olympics, on this train. See you in Korea!" Svirakova wrote, "Track2PyeongChang just began!"

Finally, Germany sent 154 athletes to the PyeongChang Olympics, and German President Frank-Walter Steinmeier is due to visit Korea during the Games, too.