2018 has marked a significant year for relations between the two Koreas, with the Korean Peninsula going from the brink of war to the dawn of a new era that could see both sides formally end the Korean War and set up a permanent peace regime.
The PyeongChang 2018 Winter Olympics in February was held 30 years after Seoul hosted the Summer Olympics in 1988, with the former event serving as a "peace Olympics" bringing the two Koreas closer. Inter-Korean summits held at the United Nations truce village of Panmunjeom in April and May and in Pyeongyang in September resulted in both sides signing and implementing agreements through the end of the year.


The following is Top 10 historical events of 2018 on the Korean Peninsula in chronological order.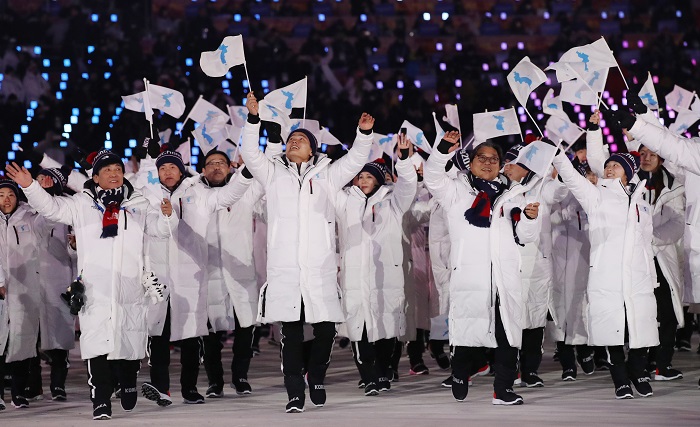 PyeongChang Winter Olympics starts journey of peace
The opening ceremony of the PyeongChang 2018 Winter Olympics was held on Feb. 9 at PyeongChang Olympic Stadium in South Korea's Pyeongchang-gun County, Gangwon-do Province. Athletes from both Koreas marched together under one flag adorned with a blue map of the Korean Peninsula in a first since the 2007 Asian Games in Changchun, China. The two sides also fielded a unified women's ice hockey team. (Yonhap News)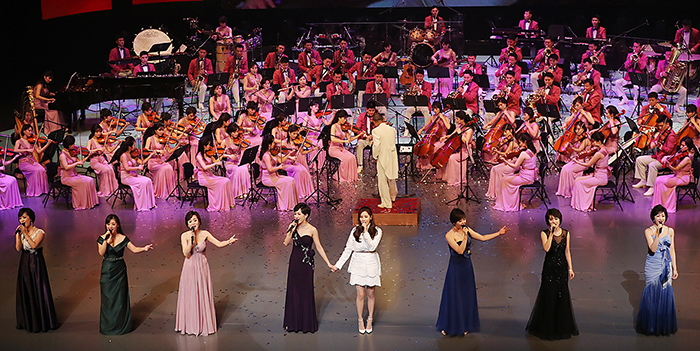 Our Wish is Unification
North Korea's Samjiyon Orchestra and South Korean singer Seohyun, a member of the girl group Girls' Generation, on Feb. 11 sang "Our Wish is Unification (우리의 소원은 통일)" at the National Theater of Korea in Seoul. President Moon Jae-in watched the show along with a North Korean delegation featuring Kim Yo Jong, the sister of the North's leader Kim Jong Un and first vice director of the Propaganda and Agitation Department of the Central Committee of the Korean Workers Party, and Kim Yong Nam, president of the Presidium of the North's Supreme People's Assembly.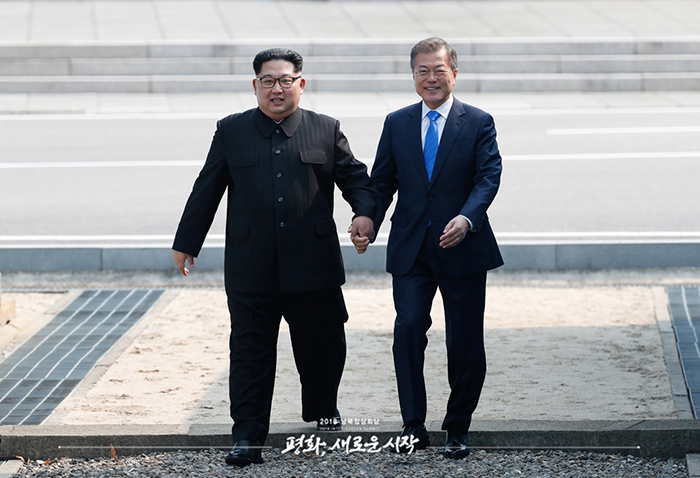 Two Korean leaders walk across DMZ, declare end of war
President Moon Jae-in (left) and North Korean leader Kim Jong Un on April 27 walked to the South Korean side of the inter-Korean border after a 10-second conversation in front of the Military Demarcation Line in Panmunjeom. After holding their summit at the Peace House, both leaders signed a joint agreement titled the Panmunjeom Declaration for Peace, Prosperity and Unification of the Korean Peninsula. "We are firmly determined to open a new era in a peaceful land and there will be no more war," both said in a statement. (2018 Inter-Korean Summit Press Corps)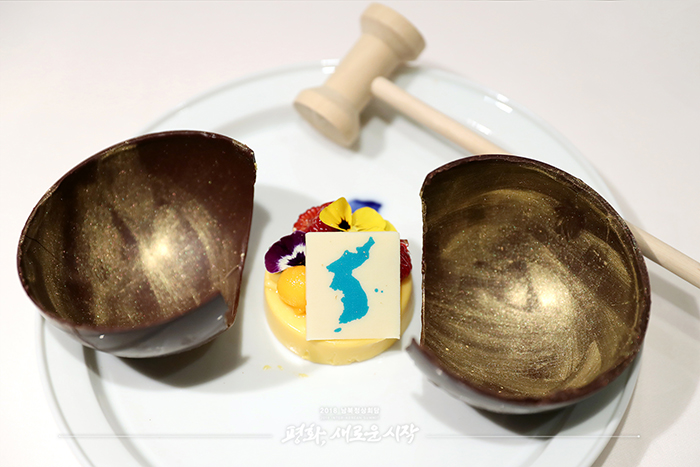 Banquet features best of Korean cuisine
The mango mousse dessert served at the welcoming banquet for the April 27 inter-Korean summit was decorated with a reunification flag and spring flowers, symbolizing hope for integration of the Korean Peninsula. Also featured was top-grade charcoal-grilled beef from the Seosan Beef Farm in South Korea's Chungcheongnam-do Province, from where Hyundai Group founder Chung Ju-yung sent around 1,000 heads of cattle to North Korea. At the Pyeongyang summit, a bowl of the Korean cold noodles naengmyeon (냉면) was the main dish at the famed restaurant Okryugwan. (2018 Inter-Korean Summit Press Corps)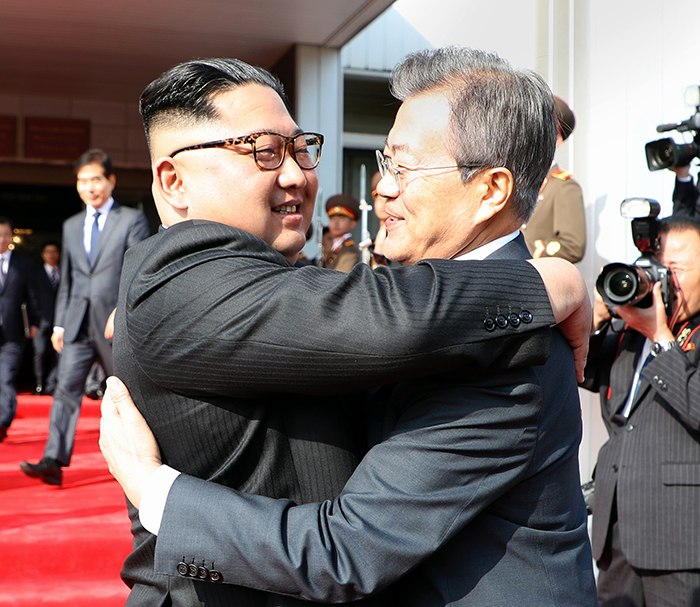 'I want to talk without any formality.'
President Moon Jae-in (right) and North Korean leader Kim Jong Un on May 26 embraced after completing their summit at Thongil House on the North's side of Panmunjeom. This meeting came after Kim made an unexpected request for it, reinvigorating stagnant dialogue with Pyeongyang after the North's abrupt cancellation of high-level inter-Korean talks and then a summit with the U.S. (Cheong Wa Dae)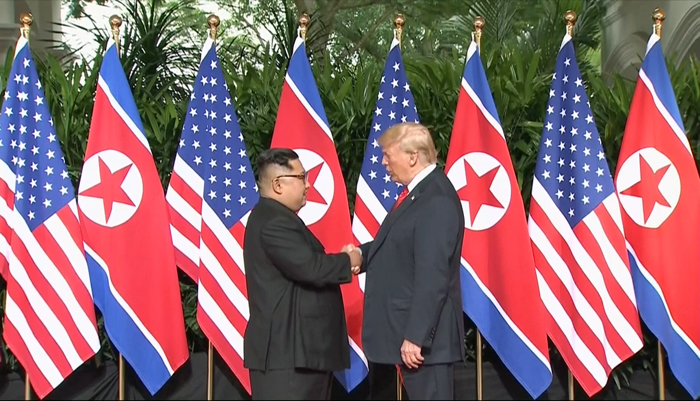 First summit between North Korea and U.S.
Dubbed "the meeting of the century" by North Korean media, the North's leader Kim Jong Un and U.S. President Donald Trump on June 12 held the first North Korea-U.S. summit in Singapore. At the Capella Resort on Sentosa Island, both men agreed on the goal of complete denuclearization of the Korean Peninsula, building a peace regime and normalizing ties between Pyeongyang and Washington. (Yonhap News)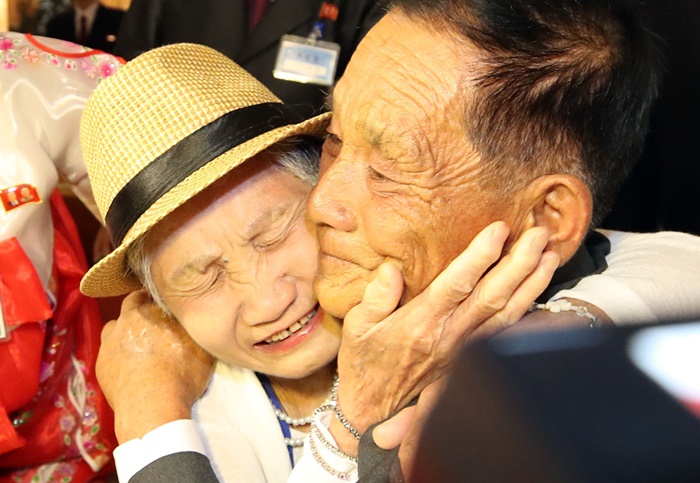 Resumption of reunions of separated Korean families
South Korean Lee Geum-seon, 92, with tears flowing down her face, on Aug. 20 hugs her long-separated son Sang-chul, 71, in the 21st reunion of Korean families separated by the Korean War at a Mount Kumgang resort in North Korea. The first since October 2015, the reunion had 89 people from the South see 83 long-lost relatives from the North. (Yonhap News)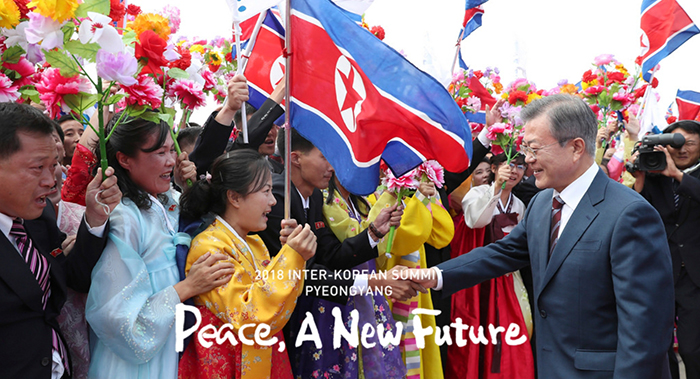 Pyeongyang welcomes President Moon
President Moon Jae-in on the morning of Sept. 18 arrived at Pyeongyang International Airport to a warm welcome from residents of the North Korean capital holding colorful flowers. The next day, the second day of the third inter-Korean summit this year, he became the first South Korean president to speak at May Day Stadium in Pyeongyang, with 150,000 people attending. "I suggest completely ending the past 70 years of hostility and taking a big step toward peace to become one again," he said in his speech. (Pyeongyang Press Corps)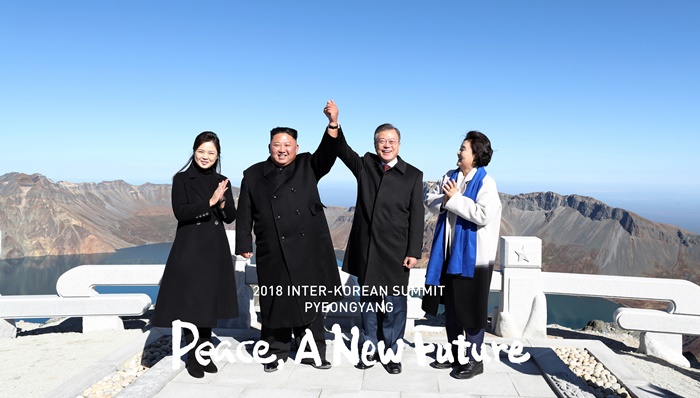 Holding hands high atop Baekdusan Mountain
President Moon Jae-in and North Korean leader Kim Jong Un on Sept. 20 held each other's hands high atop Janggun Peak on North Korea's Baekdusan Mountain. "I believe the time will come when everyone in South Korea can tour Baekdusan Mountain," President Moon said. North Korean leader Kim replied by saying, "More people from the South as well as overseas Koreans should come and see Baekdusan Mountain." (Pyeongyang Press Corps)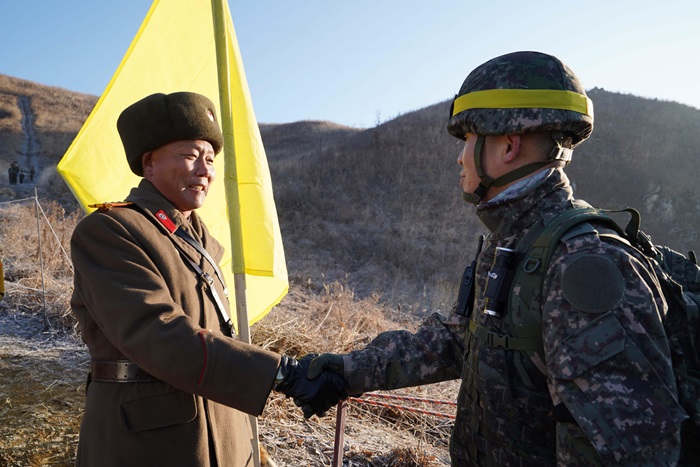 Two Koreas confirm removal of DMZ guard posts
The two Koreas on Dec. 12 completed joint verification of the removal of 11 guard posts within the Demilitarized Zone (DMZ), a first on the Korean Peninsula since its division in 1953. A combined 154 inspectors on 11 teams each with seven members from each side checked if the measure followed the Agreement on the Implementation of the Historic Panmunjeom Declaration in the Military Domain concluded on Sept. 19 by both Koreas. The photo shows military officials from both Koreas shaking hands at the DMZ in Cheorwon, Gangwon-do Province. (Ministry of National Defense)
Korea.net