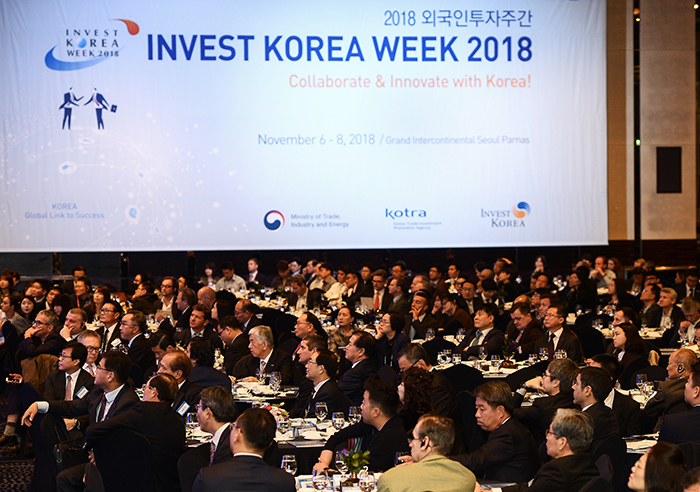 Financial authorities attend the opening ceremony of the Invest Korea Week 2018 held at the Grand InterContinental hotel in Gangnam-gu District, Seoul on Nov. 6. (Korean Trade-Investment Promotion Agency)
Foreign direct Investment (FDI) arriving into Korea has hit an all-time high.

The Ministry of Trade, Industry and Energy announced on Nov. 28 that FDI commitments to Korea reached US$23.04 billion as of Nov. 27 which surpasses the previous record of last year's US$22.94 billion.

FDI pledges have stayed above US$20 billion for four consecutive years since 2015.

It is noteworthy that the investment commitments grew despite the 41 percent fall in global FDI in the first half of 2018 compared to the same period last year.

By region, the FDI from EU surged 24.4 percent, U.S., 37 percent and China, 252 percent. By industry, machinery equipment and precision medical devices saw 206.1 percent rise, transportation machinery, 513.2 percent, distribution 37.6 percent and IT, 100.6 percent.

The ministry pointed out that the lower geopolitical risk on the Korean Peninsula established through the inter-Korean communication and the talks between North Korea and U.S. as the reasons for the all-time-record. It also said that the high sovereign credit ratings and the positive investment environment in Korea may also have affected the hike.

There were also vigorous investments in materials and components in major industries such as semiconductors and displays and increased strategic investments in the bio and digital contents industries for making new business models for the Fourth Industrial Revolution.
Korea. net