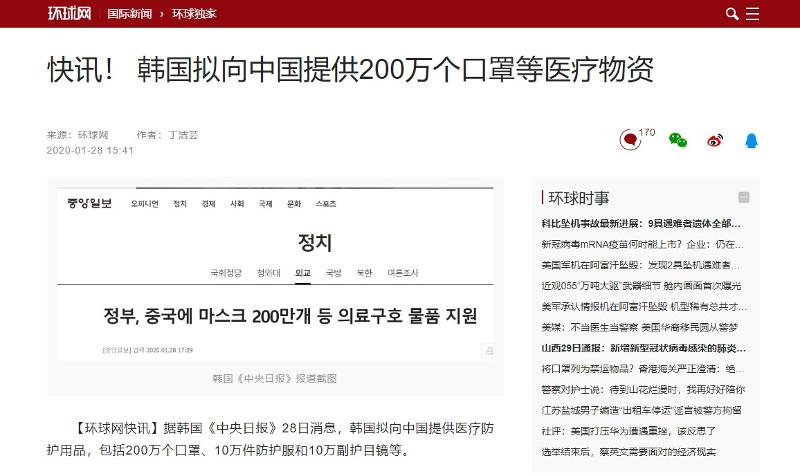 The homepage of The Global Times on Jan. 28 highlights Korea's pledge to send relief goods to China to help contain the spread of the novel coronavirus.
Korea's pledge to provide relief goods to China in the wake of the latter's novel coronavirus outbreak has received an outpouring of gratitude from the Chinese online community.
Major Chinese news outlets including The Global Times and Sinanet on Jan. 28 covered Korea's plan to send chartered flights to Wuhan to bring home Koreans from the city, and Seoul's pledge to send two million masks and 100,000 units of anti-contamination clothing and protective goggles to help China fight the coronavirus.

Chinese readers shared the news on social media services including Weibo with messages like "Thank you, Korea," "We are thankful for help in times of need" and "Thank you, Korea, for the relief goods."
The same day, Minister of Foreign Affairs Kang Kyung-wha and Chinese Foreign Minister Wang Yi held a telephone call on how to combat the outbreak.
"The Korean government will offer its full support, providing relief goods while maintaining close cooperation," said Minister Kang.
The Chinese minister said the two countries will cooperate to protect Koreans in China and maintain close communication to deal with the outbreak.
Korea.net