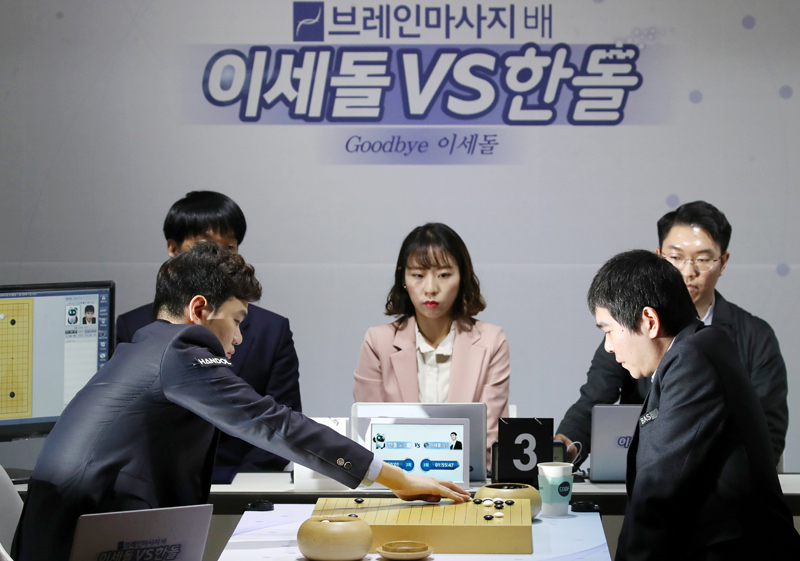 Retiring baduk (go) grandmaster Lee Sedol on Dec. 18 plays HanDol, an artificial intelligence (AI) program developed by a Korean company, in Seoul's Gangnam District.
Lee Sedol, one of the world's top baduk (go) grandmasters who announced his retirement last month, has beaten an artificial intelligence (AI) program for the second time in his farewell event.
On Dec. 18 at Bodyfriend Dogok Tower in Seoul's Gangnam-gu District, Lee won the first of three scheduled matches against HanDol, a program developed by Korea's NHN Communication Corp., by a wide margin.
In 2016, the player took on AlphaGo, an AI program developed by DeepMind Technologies that was later acquired by Google, in a five-game series. After losing the first three games, he said, "I believe that today's loss is Lee Sedol's loss, not that of humans."
Lee, however, went on to defeat AlphaGo in the fourth match on March 13, 2016, though losing the series 4-1.
As the world's professional go player to beat an AI program, he chose to conclude his career spanning 24 years and four months against HanDol.
Given a two-stone advantage and winning in 92 moves, he said, "Rather than the outcome, the match estimated the gap between humans and AI and I just wanted to show my best," adding with a smile, "Win or lose, my final play in the remaining matches will see me trying my best as a human."
Considered more evolved than the 2016 version of AlphaGo, HanDol has been developed based on data that NHN has accumulated since 1999 from operating its PC game Hangame Go. In January this year, the program defeated Korea's top five pro players and in August, it finished third in its first appearance at the China Securities Cup World AI Go Open.
korea.net