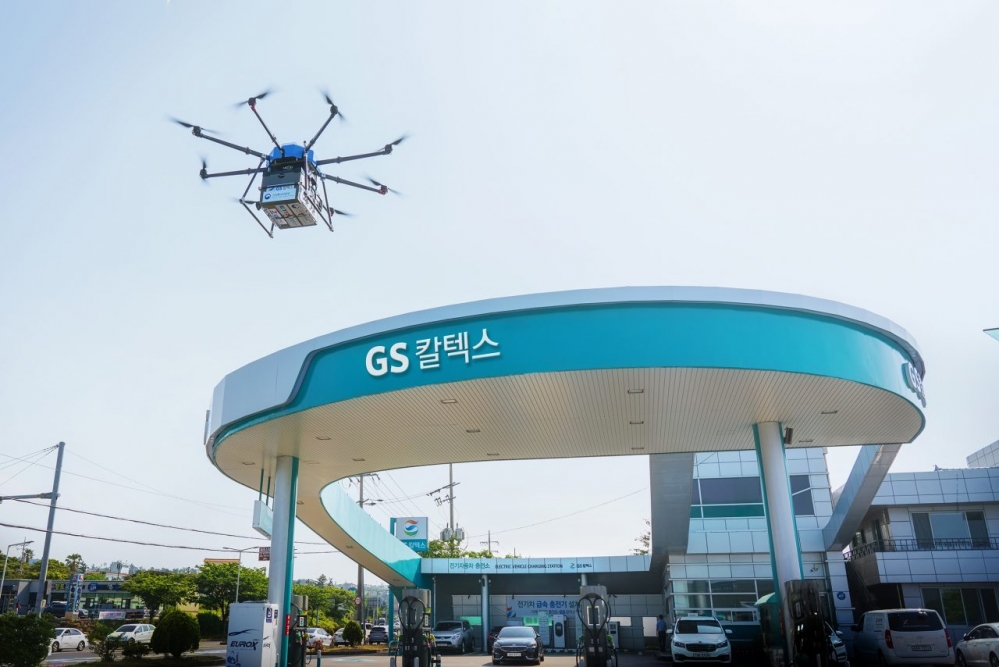 Autonomous drones in the near future are likely to deliver lunch sets, parcels or newspapers from convenience stores to consumers.

The trial operation of a drone-based delivery on June 8 was conducted at the Musucheon Stream gas station of GS Caltex on Jeju Island. Designed to demonstrate the mobility and logistic distribution of the high-tech service, the test was jointly carried out by the Ministry of Trade, Industry and Energy and the Electronics and Telecommunications Research Institute.

In the test, a user ordered food using the smartphone app of a GS convenience store. The food was then loaded on drones at their delivery base, a gas station. Each drone then delivered to the designated places -- a pension located 1.3 km away and a school just under a kilometer away -- and took just five minutes to complete delivery and return to base.
The ministry plans to inject KRW 35.2 billion into the project by 2022 to build and demonstrate a drone-based logistics service platform.
The latest demonstration aimed to show how autonomous drones developed for this project could deliver food to customers from a convenience store.
Both of the drones used in the test service – the ND-820 from Neon Tech and the XD-I6D of X Drone -- can take off and land automatically. The former can carry up to 25 kg and the latter 22 kg.
On the same day, GS Caltex and GS Retail announced their foray into the drone-based service sector for the first time in Korea, announcing their vision of using gas stations nationwide to form a logistics hub for drone delivery and future mobility.
With demand for drone-based logistical service predicted to rise in the era of non-contact service, the ministry will develop hydrogen-powered drones able to carry heavier items to farther regions and review using a gas station network as a hub for recharging electric- and hydrogen-powered drones.
The ministry said it expects drone-based delivery service can be helpful in remote areas like mountains or islands, especially for senior citizens and residents of less accessible areas, for quick delivery of essential and safety items.

The ministry said it will expand the sectors for drone delivery service and the types of service areas to both suburban and urban regions in phases.
Korea.net