President Park Geun-hye began talks with Japanese and Chinese leaders in the first meeting among the three neighbors in more than three years on Sunday as they are seeking to ease tensions on their shared history and move forward their relations.

The meeting represents the resumption of a trilateral summit, which had been suspended since 2012 due to a territorial dispute between China and Japan, as well as Japan's attempts to whitewash its wartime atrocities and colonial occupation.

The meeting came a day after Park met with Chinese Premier Li Keqiang. On Sunday, the two leaders were meeting with Japanese Prime Minister Shinzo Abe.

The three leaders are expected to hold in-depth talks on how to strengthen substantial cooperation in a wide-range of issues, including economy, and exchange opinions on regional and international issues, according to Cheong Wa Dae, South Korea's presidential office.

South Korea voiced hope that trilateral cooperation will be back on track and the neighbors will push for cooperative projects in various fields.

South Korea, China and Japan are key trade partners, but tensions still persist between South Korea and Japan and between China and Japan over territorial and other history-related issues.

The three leaders are set to meet with business leaders of their countries later in the day before attending a welcoming dinner.

Separately, Park is scheduled to meet with Abe on Monday-- the first bilateral summit between leaders of the two neighbors in more than three years.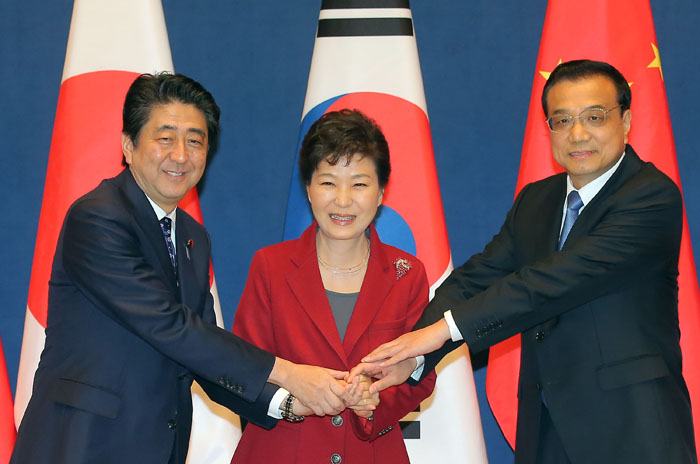 Park has so far shunned a bilateral meeting with Abe due to the lack of progress in resolving the issue of elderly Korean women who were forced to serve as sex slaves for Japan's World War II soldiers.

South Korea and Japan are key allies of the United States, though they have long been in conflict over territory and other historical disputes stemming from Japan's 1910-45 colonial rule of the Korean Peninsula.

The meeting comes amid no apparent sign of a breakthrough in the issue of the former sex slaves -- one of the knottiest issues between the two countries.

South Korea demands Japan acknowledge its responsibility for the sex slaves, while Japan insists the issue was settled under the normalization treaty of 1965.

The issue has gained urgency in recent years as the victims are dying off. In 2007, more than 120 South Korean victims were alive, but the number has since dropped to 47, with their average age standing at nearly 90.

Historians estimate that more than 200,000 women, mostly Koreans, were sexually enslaved by Japanese troops during World War II.