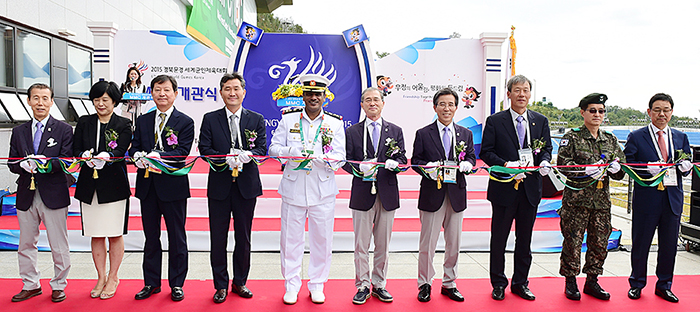 Dignitaries prepare to cut the ribbon at the opening ceremony for the upcoming 2015 International Military Sports Council (CISM) World Games, in Gyeongsangbuk-do Province on Sept. 30.
The opening ceremony for the 2015 International Military Sports Council (CISM) World Games was held at the World Eco Peace Park in Gyeongsangbuk-do Province on Sept. 30. In attendance were Minister of National Defense Han Min-gu, President of the International Military Sports Council Hakeem Al-Shino, Chairman of the Organizing Committee for 2015 CISM World Games Kim Sang-gi and other dignitaries. The CISM World Games are a multi-sport event for athletes who are members of militaries worldwide.

The games are held every four years and through sports aim at enhancing friendships and relationships among the world's military personnel. This year, the games will take place across eight cities in Korea, including Mungyeong in Gyeongsangbuk-do Province (North Gyeongsang Province), under the theme of "Friendship Together, Peace Forever."

Mungyeong is now the sixth venue to host the games since they started in 1995 in Rome. About 7,500 soldiers from some 120 countries will compete in a total of 24 events this year.

As well as regular sports such as basketball, swimming and taekwondo, the military games also include orienteering and parachuting. Orienteering requires that competitors arrive at a given destination as accurately as possible using only a map and a compass, with speed playing little importance. Analyzing topography and geography in unfamiliar circumstances are the top priority to get the gold.

There are also three military sports -- the aeronautical pentathlon, the military pentathlon and the naval pentathlon -- that help to determine who is the best overall soldier. Many of the competitions in the military sports cover war-like situations and the carrying out of orders. The military pentathlon includes grenade throwing, the naval pentathlon includes a seamanship race and the aeronautical pentathlon includes flying.
Minister of National Defense Han Min-gu attended the opening ceremony and checked on the venues' preparedness on Sept. 30, the same day the Main Media Center(MMC) for the games opened. Chairman of the Organizing Committee Kim Sang-gi said, "The MMC is in charge of releasing timely and prompt news stories about the games and to raise awareness of this competition. These games play an important role in developing friendship through sport with people from around the world."