President Park Geun-hye and President of the European Council Donald Tusk agreed to make sure the Korea-EU FTA takes effect this year. The agreement came at the Korea-EU summit meeting on Sept. 15 at Cheong Wa Dae.

President Park and President Tusk, who was visiting Korea solely for the bilateral summit, agreed to extend bilateral cooperation by diversifying cooperation to include the industrial, scientific, technological and marine sectors. They also agreed to bolster cooperation on responding to global issues, such as climate change and issues involving the Korean Peninsula.

President Park said, "We will make efforts to fully implement the Korea-EU FTA which has been tentatively effective since 2011. We will strengthen negotiations between working-level authorities in both regions in order to create measures to boost more balanced trade and to extend investments in each region."
"Korea and the EU agreed to manage in a more substantial manner the more than 30 cooperation committees that were formed since the Korea-EU summit in 2013, covering the industrial, educational and culture sectors. Both regions agreed to strengthen research cooperation in the science and technology sectors to improve innovation in such fields as nanotechnology, biotechnology, energy, information and communications technologies (ICT) and in the environmental sector."

In regard to security cooperation she said, "We are glad that security cooperation between Korea and the EU has been expanded to include blue-water security and security in cyberspace. We will continue to make efforts to increase bilateral cooperation."

Korea and the EU have been carrying out joint research projects on the safety of nanotechnology and joint studies into how to respond effectively in the early stages of an outbreak of an infectious disease. In the energy and ICT sectors, the two regions will conduct joint research into carbon capture and storage technologies in order to reduce greenhouse gas emissions, and from 2016 into the Internet of Things (IoT) and cloud computing.

In regard to issues involving the Korean Peninsula, the two leaders shared the view that progress on inter-Korean relations would greatly contribute to the peace and prosperity of the world, as well as to that of the Korean Peninsula. President Tusk reaffirmed the EU's support for Seoul's Korean Peninsula trust-building process. The European Council president expressed his support for the South Korean government's standpoint to make progress through dialogue and cooperation, and its pursuit of peaceful reunification.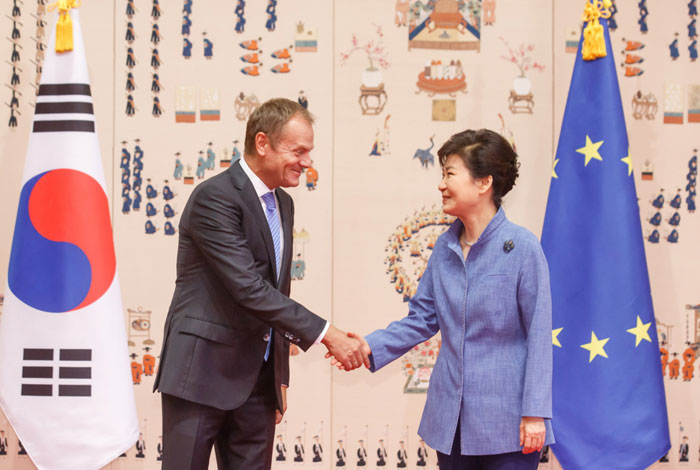 President Park Geun-hye (right) and European Council President Donald Tusk shake hands before summit talks at Cheong Wa Dae on Sept. 15.