President Park Geun-hye said on Sept. 9 that, "Unification of the Korean Peninsula will be the fundamental solution to North Korean nuclear issues and humanitarian issues. It will also finally put a world-wide end to the 20th century's history of the Cold War."

"North Korea should stop pursuing its unrealizable ambition of developing nuclear weapons and developing its economy at the same time. Pyongyang needs to walk down the path toward true development, through opening and reform," said President Park in her keynote speech at the fourth Seoul Defense Dialogue.

She urged the North to engage in dialogue and to communicate with the South and the international community in order to find a decent resolution and in order to build trust in terms of the military and arms control between both Koreas, and to move toward the goal of denuclearization on the Korean Peninsula.

"In order to achieve such a vision of unification, I believe cooperation in defense and security with countries around the globe is very important. I hope you can take an interest in and cooperate with us so that North Korea can have the courage to come to the dialogue table and become a responsible member of the international community as early as possible," she added.

"Firmly embedding peace across Northeast Asia is a historic mission of our generation that we are obliged to follow. I believe building peace on the Korean Peninsula will become the final piece to complete the puzzle of the future of Northeast Asia, Eurasia and of the whole future of humankind," she said.

Mentioning the recent security crisis that took place late last month, the president said, "Such volatile crises should never recur on the Korean Peninsula."

In this regard, she asked for the cooperation and support of the world, saying, "I hope the participating security experts here from around the world can take an interest in and support us so that the Korean Peninsula can overcome its military conflict and transform itself into a region that leads to conciliation and peace across Northeast Asia."

"The Korean Peninsula is the only separated region in the world, leaving a large task for the whole world. I believe peaceful unification of the Korean Peninsula is crucial to accomplishing peace and harmony on earth," the president said.

Mentioning cyber terrorism, natural disasters caused by climate change and the spread of new infectious diseases, she said, "New types of security threats that did not exist in the past now threaten the future of humanity. Now, countries are facing new challenges to respond to conventional security threats and to overcome non-conventional, trans-national security threats."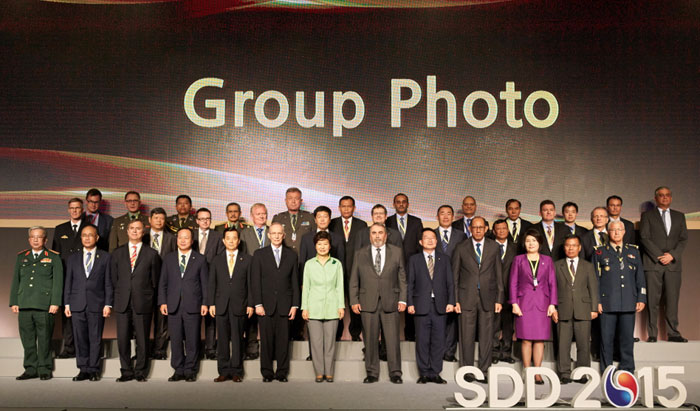 Government representatives and civilian security experts from around the world participate in the fourthSeoul Defense Dialogue.