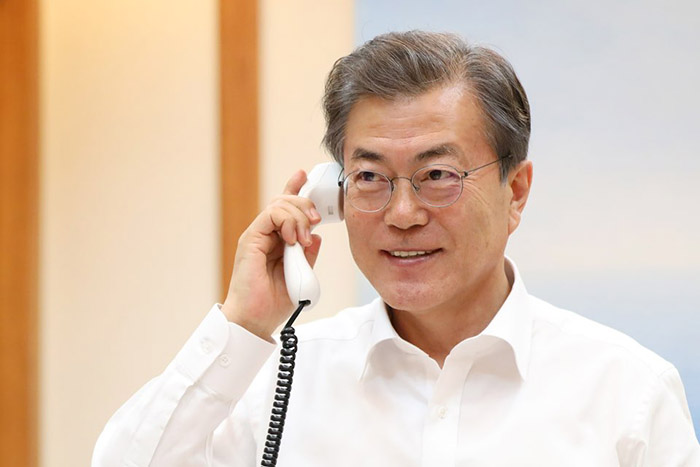 President Moon Jae-in speaks to his U.S. counterpart, Donald Trump, on Jan. 10. (Cheong Wa Dae)
President Moon Jae-in gave U.S. President Donald Trump a call on Jan. 10 to explain the results of the previous day's high-level talks between the two Koreas. The two heads of state discussed ways to cooperate on the issues at hand.

President Moon said that the high-level talks had sealed North Korea's participation in the PyeongChang 2018 Winter Games, and predicted that the inter-Korean talks would open the possibility of dialogue between the U.S. and North Korea. President Trump said that given the appropriate circumstances, Washington would be willing to engage in talks with Pyongyang.

President Trump also said that recent reports made by the Wall Street Journal that claim that he's planning military attacks against North Korea are completely untrue. "Let's make it clear that there will be no military activity whatsoever during the high-level talks between the two Koreas," he said.

It was announced during the phone call that President Trump would be sending Vice President Mike Pence to head the U.S. delegation during the upcoming PyeongChang Winter Games.


Korea.net