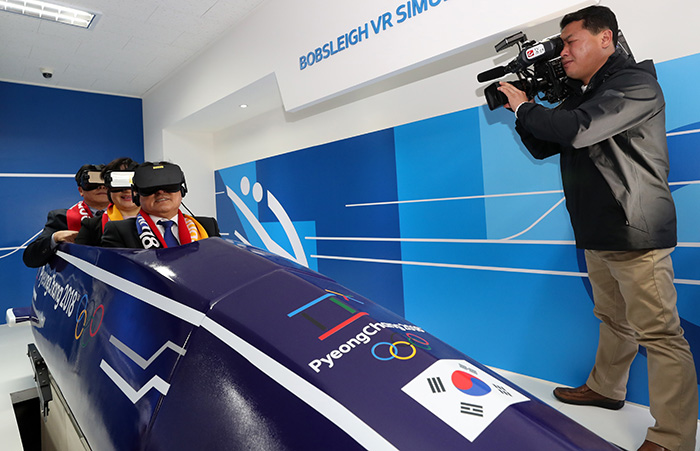 By
Xu Aiying
and
Sohn JiAe
Photos = Yonhap News
State-of-the-art technology can transform the way you experience the Winter Olympic Games.
The Ministry of Science and ICT announced on Nov. 29 that the PyeongChang ICT Pavilion has opened its doors on the second floor of the PyeongChang Olympic Plaza, a venue for the Opening and Closing Ceremonies for next year's PyeongChang 2018 Olympic and Paralympic Winter Games, in Pyeongchang-gun County, Gangwon-do Province.
The PyeongChang ICT Pavilion allows visitors to experience the upcoming winter sports festival with the help of five key new technologies that will be used throughout the Olympic season: fifth generation mobile networks (5G), the Internet of Things (IoT), ultra high definition broadcasts (UHD), artificial intelligence (AI) and virtual reality (VR).
The venue has three hands-on experience zones.
The Enjoy ICT zone allows visitors to try some VR Winter Olympic sports. The IoT Live zone has a studio where people can see the making of UHD broadcasts. Lastly, at the Imagination ICT zone, you can find how 5G equipment boosts the Olympic thrills.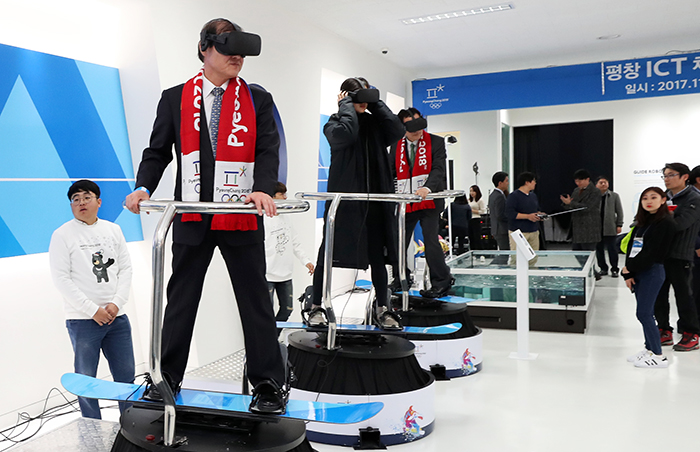 "It's safe to say that one of the domestic industries that has seen rapid growth since the Seoul 1988 Olympic Games is definitely IT," said Minister of Science and ICT Yoo Young-min. "As the nation hosts an Olympic Games for the first time in about three decades, our ministry will pull out all the stops in the run-up to the PyeongChang Winter Games to make the global sporting event a successful 'IT Olympics.'"

The PyeongChang ICT Pavilion is currently open only on Wednesdays and Saturdays until the PyeongChang Games start on Feb. 9 next year. Please book tickets in advance by calling 02-2156-9104.

During the Olympics, the venue will be open every day from 10 a.m. to 10 p.m.
Korea.net