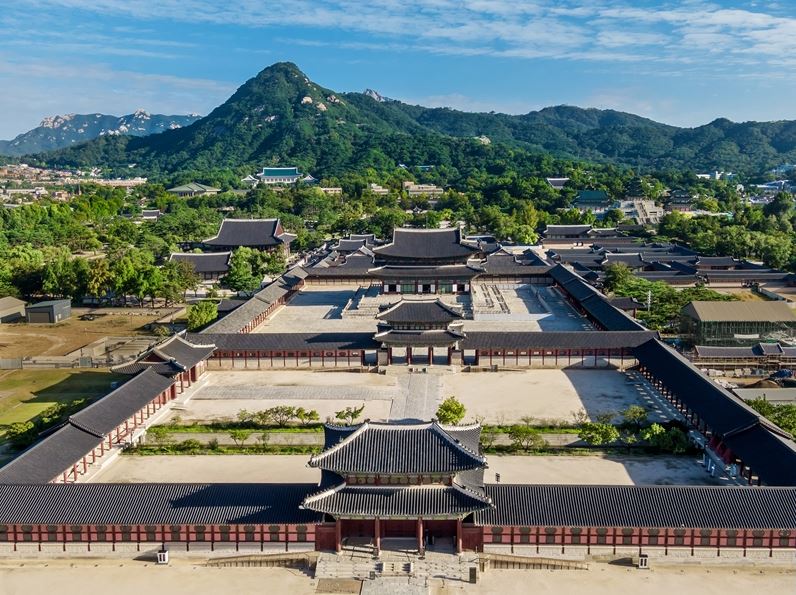 Gyeongbokgung Palace will offer free admission from Sept. 28 to Oct. 3 to mark Chuseok (Korean Thanksgiving). (Cultural Heritage Administration)
The four royal palaces of Gyeongbokgung, Changdeokgung, Changgyeonggung and Deoksugung, Jongmyo Shrine and Royal Tombs of the Joseon Dynasty will offer free admission during the Chuseok (Korean Thanksgiving) holiday period of Sept. 28 to Oct. 3.

The Cultural Heritage Administration (CHA) on Sept. 19 said that during Chuseok, visitors can enter the palaces and tombs free as well as take part in interactive programs featuring intangible cultural heritage and traditional folk games.

Over the six-day period, visitors can freely explore the palaces except Changdeokgung's Secret Garden.

Jongmyo Shrine, which usually requires a reservation, will also be free to enter for the public.

The palaces and tombs are normally closed every Monday or Tuesday but will be open over the six-day period and closed on Oct. 4, CHA said.

Regular cultural programs such as the changing of the guard ceremony at Gyeongbokgung and evening tours at Gyeongbokgung and Changdeokgung will be run as usual during the holidays.

"Genre Painting for All," a program in which participants make characters from the Joseon Dynasty (1392-1910), will start on Sept. 27, the day before Chuseok, and end on Oct. 31. It will also be the main online event of this year's Royal Culture Festival, which is slated for Oct. 13-18, and an English-language edition will be offered for foreign nationals.
Those who wish to participate can do so from Sept. 27 on its website (pungsokdo.com).
On Sept. 30 from 11 a.m. to 4 p.m., the National Intangible Heritage Center (NIHC) in Jeonju, Jeollabuk-do Province, will host a center for folk games designated intangible cultural heritage at the NIHC performance halls of Jungjeong and Jeonseungmaru.

Visitors can make drink coasters and fans with students of national intangible cultural heritage. Reservations to join the program can be made through Sept. 27 on the NIHC's official website (www.nihc.go.kr) on a first-come, first-served basis.
"To celebrate the Chuseok holidays, we hope that families, friends and couples experience traditional culture together, visit our leading cultural heritage sites like royal palaces and tombs stress free, and spend a happy and fun Hangawi (old name for Chuseok)," CHA said.
Korea.net