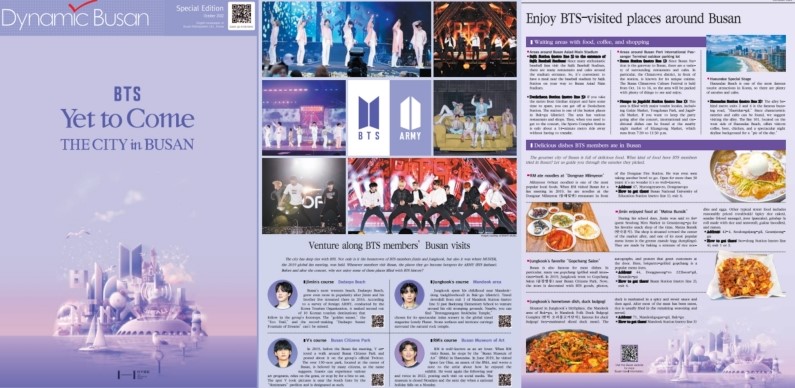 Busan Metropolitan City on Oct. 11 released special editions of its English- (pictured) and Japanese-language newspapers titled "Dynamic Busan" ahead of the BTS concert on Oct. 15 to promote the city's bid for the 2030 World Expo.
Busan Metropolitan City on Oct. 10 announced that it has published a special edition of the newspaper Dynamic Busan in English and Japanese ahead of the BTS concert on Oct. 15 to support the city's bid for the 2030 World Expo.

Slated for release on Oct. 11, the paper is designed to provide a wealth of information to members of the K-pop group's fan club Army and tourists who will visit Busan to mark and support the "Yet to Come in Busan" concert.

A combined 50,000 copies -- 40,000 in English and 10,000 in Japanese -- will be issued. A four-page tabloid version was also produced to allow Army members and visitors to easily carry and keep it as a souvenir.

The main content includes things that visitors must check before watching the concert, tips on using the city's public taxi call service Dongbaek Taxi, an all-day ticket for the city's subway, free public Wi-Fi and phone numbers for tourism services.

The publication also features the section "BTS Busan Holy Site," a collection of tourist attractions and famous restaurants visited by BTS members such as Dadaepo Beach, which was visited by Jungkook from the hometown of the city's Mandeok-dong neighborhood in Buk-gu District, and Jimin, who is from the Hoedong-dong neighborhood in Geumjeong-gu District; Busan Museum of Art visited by RM; and Busan Citizens Park where V took a selfie.

More information on sightseeing is provided through the QR codes throughout the newspaper. By scanning a QR code with a smartphone, a user can access the concert information page on the city's English-language website and the Busan tourism information website Visit Busan.
The city government will distribute in advance the newspapers to regional accommodations and tourist attractions. On the day of the concert, they will be given out near Asiad Main Stadium and the northern part of the Port of Busan, where livestreaming of the concert will be held, and in the vicinity of makeshift stages at Haeundae Beach.

The newspapers will be made into e-books and offered in the e-book section of the city's official website (book.busan.go.kr).

City spokesperson Na Yun-bin said, "This special edition was created to commemorate and support the BTS Busan concert and provide information on the global city Busan and the concert to Army members and visitors," adding, "The city is exerting administrative efforts in all sectors to ensure a successful concert."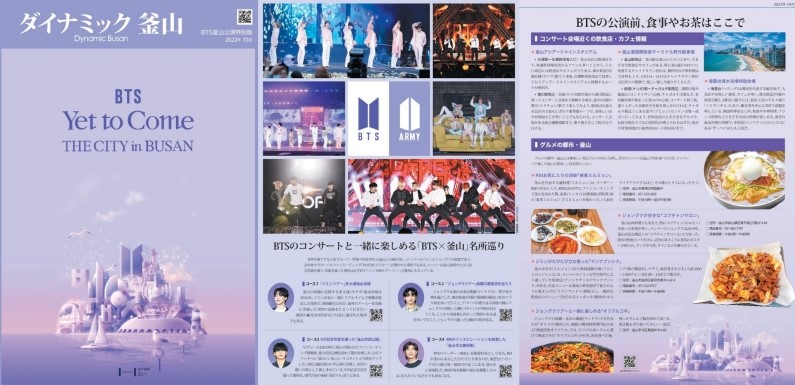 This is the Japanese-language version of the special edition of the newspaper Dynamic Busan ahead of the Oct. 15 BTS concert in the city.
Korea.net