As Korean soap operas, movies and pop music grows in popularity on the global scene, interest in the Korean language has naturally also started to kick in. Thirteen King Sejong Institutes, which offer Korean language classes, were launched in 2007, first in Mongolia, China and the U.S. Now as of 2016, the number of institutes has grown to 143 in 57 countries around the world, serving as a window into learning about South Korea itself, as well as the Korean language.

On July 12, teachers from 88 King Sejong Institutes from 42 countries, including Nepal, Russia, Mongolia, Vietnam, Bulgaria, the Czech Republic, Kazakhstan, Thailand and mainland China, just to name a few, gathered in Seoul for a special conference. The eighth World Korean Educators Conference, held at the National Museum of Korea, brought them together to build networks among themselves, both Korean and non-Korean teachers.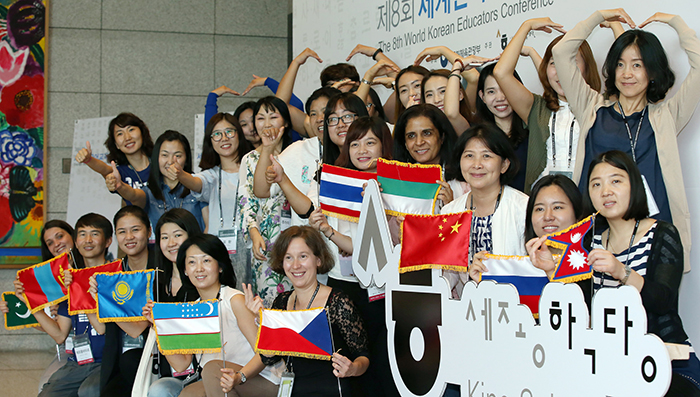 A group of Korean language teachers from 88 King Sejong Institutes from around the world smile as they hold their own national flag during the eighth World Korean Educators Conference in Seoul on July 12.
The conference began with the president of the King Sejong Institute Foundation, Song Hyang-keun, delivering letters of designation to each representative from the nine new institutes that opened so far this year in Vietnam, Latvia, Bahrain, Malaysia, Myanmar, New Zealand, Australia and Poland.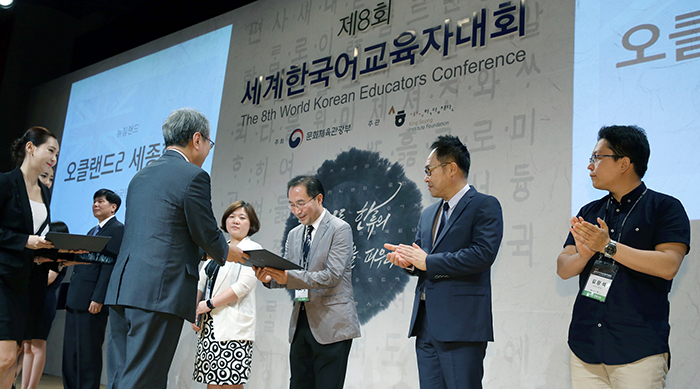 Following the ceremony, three experts from academia, broadcasting and the entertainment industry talked about the way in which the Korean language is spreading around the world. They also discussed ways to further disseminate the language to a wider audience.

Professor Cho Hyun-yong from Kyung Hee University, part of the three-member panel, said that the way Korean-speakers say uri (우리), or "our" in English, when they refer to, say, uri-jip (우리집) -- either "our home" or "my home" in English -- represents the strong sense of community that is embedded in the Korean grammar system. The professor also pointed out that such expressions as mi-woon-jeong or go-woon-jeong (미운정, 고운정), which mean, "having some degree of affection toward someone, even though I hate them," and the saying, "I give another piece of rice cake to someone who I dislike" (미운놈 떡 하나 더 준다), both show how people have and express jeong (정, 情), an emotional bond or affection.

"You can quickly learn people's thoughts and ideas in the language itself," said Cho. "It would be perfect if we could not only teach the exact meaning of each word and expression, but also help learners realize what kinds of thoughts and emotions the word embraces," he said.
"The reason why fans around the world are crazy for Korean soap operas and pop music, in particular, is that there's a specific subject to which they devote their affection," said Ahn Soo-wook, director of the Overseas Alliance & Cooperation department at SM Entertainment, one of K-pop's top talent agencies. "The fans express their love for their favorite singers and actors by learning the Korean language they hear in a song or a film. They even make banners in Korean for their favorite stars. The huge popularity of Korean singers and actors, naturally, kindled their interest in the language."
Participants who flew to Seoul to attend the conference will stay in the capital until July 15, and attend training programs so as to gain a deeper understanding of Korean pronunciation and vocabulary. The group will also take part in a competition that will anoint the best teachers, and receive a tour of the National Hangeul Museum.