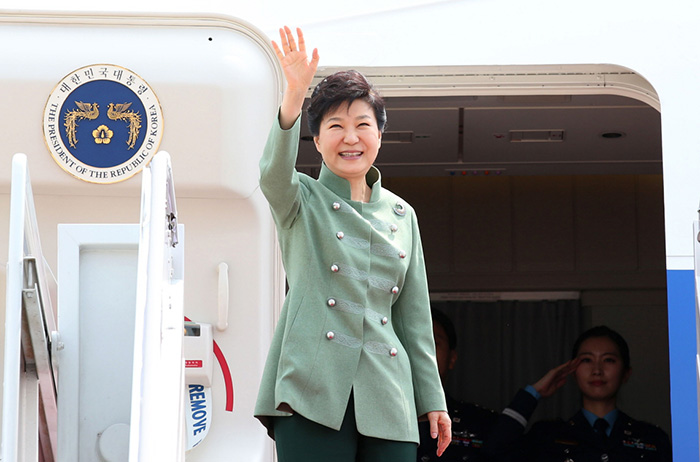 President Park Geun-hye will visit Ethiopia, Uganda, Kenya and France from May 25 to June 4.

During the first leg of her trip, President Park will hold a series of summits with local leaders, while strengthening the foundation of sharing and win-win cooperation with Korea's African neighbors. She will be the first Korean head of state to visit the African Union (A.U.) in Addis Ababa on May 27 where she will deliver a special address. In the speech, she will explain Korea's policy vision for Africa, diplomatic acts that Korea has undertaken across the African continent, steps that Korea has made toward peace, security and win-win economic cooperation, Korea's new model of development cooperation, and cross-cultural exchanges.

The Korean government plans to deepen its cooperative relationships with African governments through a new form of official development assistance (ODA), dubbed "Korea Aid." It is a combined assistance program that includes both development cooperation and cross-cultural promotional programs. Through the new ODA program, Korea aims to bolster its development cooperation and share its development experiences, such as the New Community Movement, or Saemaul Undong, a series of rural and agricultural development policies from the 1970s and 1980s, with its African partners.

Korea Aid includes mobile medical clinics, ambulances and trucks that can provide food. It also includes videos of Korean traditions and arts, and educational clips. These will focus mainly on providing medical services and food, and on sharing Korean cultural content. Korea Aid will provide not only simple vaccinations and medical supplies, but also medical treatments in the fields of obstetrics, gynecology and pediatrics. President Park will attend a launch ceremony for a Korea Aid project in each of the three African countries she visits during her trip.

After her trips to Ethiopia, Uganda and Kenya, President Park will head to France for another state visit from June 1 to 4. In Paris, she will concentrate on reaffirming and strengthening the friendship and comprehensive partnership that exists between Korea and France, while marking the anniversary of the 130-year-old Korea-France diplomatic relationship.

President Park will hold summit talks with French President Francois Hollande on June 3, their third summit meeting. The presidents will adopt a joint declaration to commemorate the 130th anniversary of diplomatic ties between Seoul and Paris, consolidating the two nations' strong bilateral relationship.

Cheong Wa Dae has said that the joint declaration will become an important watershed to back bilateral cooperation, since an action plan designed to reinforce their comprehensive partnership was adopted by the two leaders during President Hollande's state visit to Korea last November.