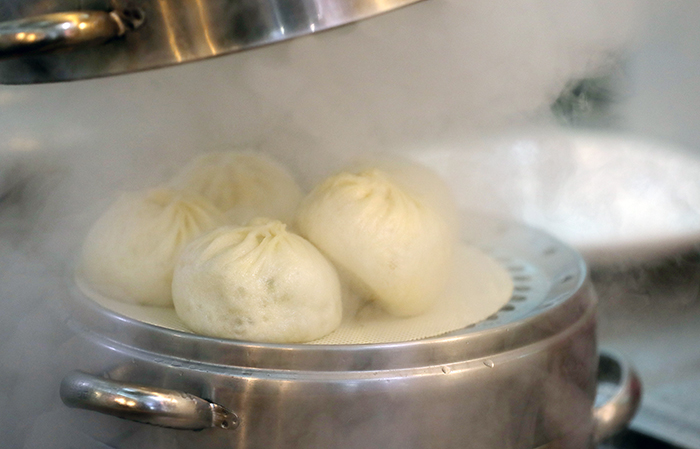 Jjinbbang, or steamed buns filled with a sweet bean paste, are the ideal snack for the wintertime. These pocket-sized buns, served fresh from the steamer, also warm up your hands in the blistering cold.
Walking outside during winter's coldest months, it's hard not to notice the steamy roadside snacks that beckon you to stop for a bite and warm your frosty fingers.

Some of the most beloved wintertime Korean snacks include roasted sweet potatoes (군고구마), steamed jjinbbang buns (찐빵), sweet hotteok pancakes with nut fillings (호떡), and skewered eomuk fish cakes (어묵꼬치). While many people have fond memories of these snacks from childhood, times are changing, and nowadays it's possible to find these snacks in more shapes and forms, at stalls and stores across the country.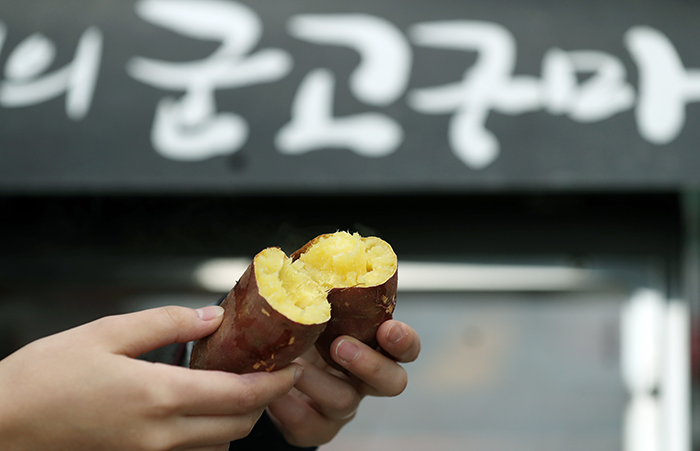 Roasted sweet potatoes make a perfect mid-afternoon snack in the wintertime, especially if you're braving the blistering cold of the city streets.
Most people think of roasted sweet potatoes as the representative winter snack. Back in the day, it was relatively easy to spot vendors selling sweet potatoes roasted out of a wood-burning barrel stove on the side of the street. A packet of those kept your hands warm on the journey. You could also split one in half and take turns biting into the creamy, golden flesh, savoring every bite.

These days it's become quite hard to find these classic sweet potato barrels on the sidewalk. Instead, you can turn to a nearby convenience or department store to get your sweet potato fix. In some convenience stores near offices or university campuses, you can buy sweet potatoes roasted on a grill. For people in a rush, there are a number of pre-packaged sweet potato snacks, too. You can go with mat goguma (맛 고구마) if you're looking for a softer, oven-roasted texture, or try jjondeukhan goguma (쫀득한 고구마) if you're more into the chewy variety.
Another winter delicacy is steamed jjinbbang buns. In some instances, these plump buns are called hobbang (호빵) because ho is the blowing sound you make before biting into a steaming hot snack. These treats, originally filled with sweet bean paste, are transforming to suit the tastes of younger generations.

These days, not only are there sweet bean and veggie buns, you can also challenge yourself with a pizza, milk custard, bulgogi marinated beef, or curry filled bun, all of which can be found at any major supermarket. There are a variety of buns sold at convenience stores, too. Depending on which store you go to, you can try steamed buns filled with custard cream or with seeds and honey.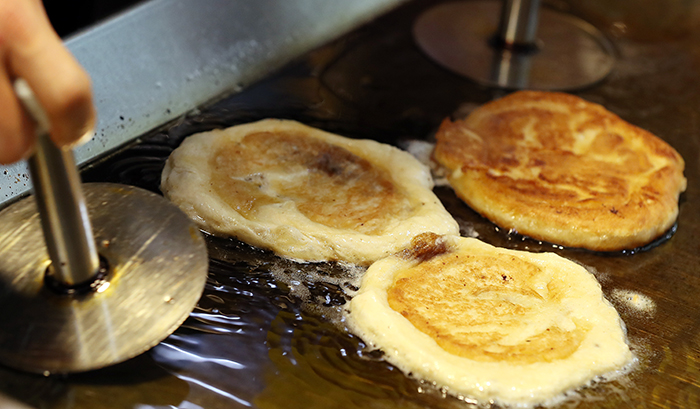 Hotteok pancakes, sold in the alleyways of Tongin Sijang Market (통인시장), are filled with a sweet filling wrapped in a warm, crispy crust.
Sweet hotteok pancakes are a childhood snack that bring back memories of cold winters, when a paper-wrapped pancake dripping with sugary sweetness made your mouth water with delight.

The pancakes, made with flour or glutinous rice dough and filled with sugar, now come in a variety of fillings, including honey, pumpkin seeds, veggies and beef. Thanks to easy-bake products, it has now become possible to make hotteok at home using a frying pan or a microwave. Additionally, a selection of readymade frozen products is available, filled with ingredients like sweet corn, black sesame seeds, pumpkin puree and even green tea.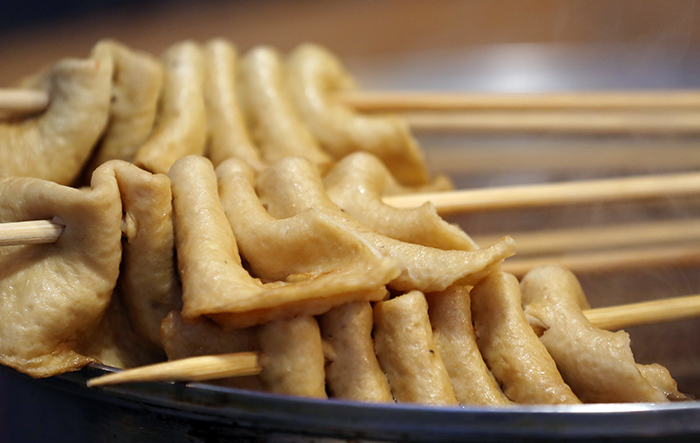 Skewered eomuk fish cakes help to keep you warm on winter days, with each bite and gulp of the savory fishcake soaked in warm broth.
Finally, the winter would not be complete without some skewered eomuk fish cakes, a real treat during frosty evenings. While plenty of street vendors still sell fishcakes along roadside stands, these days it's possible to get higher-quality fishcakes due to the popularity of Busan brands like Samjin Eomuk and Goraesa Eomuk in Seoul, and across major cities.

At Goraesa Eomuk for instance, you can not only try the standard fishcakes made with croaker and galchi (갈치), or hairtail, but also have a go at the crabmeat kind, or ones wrapped around ricecake or filled with cheese. With more flavors and textures available, fishcakes are a crowd favorite among adults and children alike in the winter months.