I am Salvadoran and I lived there all my life until June 2016 when I traveled to Korea thanks to an exchange program. If you search for information about my country, you can find some things a little bit negative. That's why my life is only about going to university and only once in a while do some other recreational activities, but never go out late or return home late.

During my four months in Korea, however, I experienced going out at night, and I felt like I was practically in another world. During my first days in Korea, our teachers invited us to have dinner together. The first time they told us that we were going to meet at 8 p.m. in a restaurant near our university. In my mind, I was thinking, "How is it possible that the restaurants close so late?" Of course, that was my reaction because in my country this is not common due to security reasons. The dinner ended at about 9 or 10 p.m. After that, we decided to walk back to the university to help with our digestion. I remember that some Koreans, after eating, like to go for a walk in a nearby park.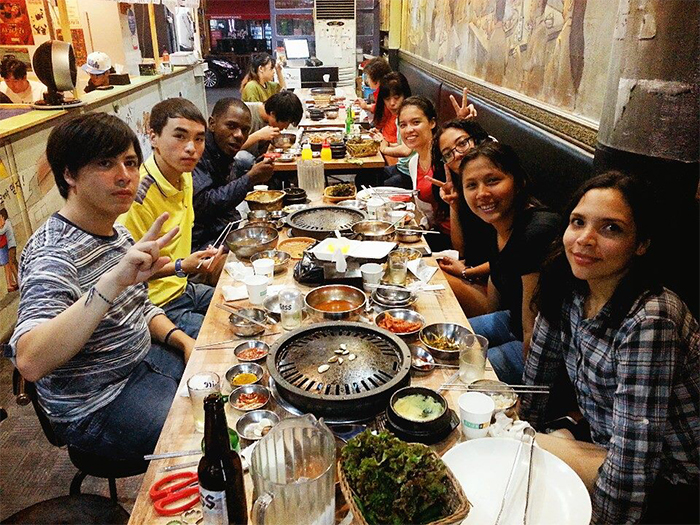 I was totally surprised looking at how the city had life after dark. There were a lot of restaurants open and people were going to do some noraebang singing after eating. Delivery motorcycles were heading to the university to bring food for the students. My friends and I were amazed at how beautiful and kind everything was. I also remember one of my friends saying, "Guys, when you get to Seoul, you'll enjoy it."

That's why whenever I had the opportunity to go to Seoul, I loved to walk in the parks at night. In big cities like Seoul, you can find a diverse range of activities to do. Also, some places are open 24 hours. For example, if you love to dance, you can go to a club and enjoy it with your friends. However, these places are more crowded on weekends, starting on Friday night. People also play sports and kids love playing around, riding bicycles, and even playing with their pets. Families go on picnics, eat chicken with beer or soda, and even go camping at night. I can recommend Hangang River. It's the best place to go out, especially on a summer night.

Also, the local governments in the cities organize special events where you can spend time with your family or friends. At these events, you can get rid of your stress. One of these activities was the Suwon Lantern Festival, which I had the opportunity to go to with my friends. There's also the International Fireworks Festival in Seoul that, in my personal opinion, is a complete success if you want to have some fun. At first, I was a little scared to go out at night. My principal worry was for transportation back to the dormitory, but my Korean friends taught me how to use various apps to call a taxi. Also, the bus and subway service has a night schedule, which is very convenient. After that, I personally preferred to do some walking at night so as to have a better experience.

If you have the opportunity to go to Korea, don`t miss the chance to have some night experiences. Visit the neighborhoods of Hongdae or Itaewon if you're a person who likes to go to parties. However, if you prefer places that are more calm or quiet, there are some good options, like theme coffees shops, restaurants, amusement parks that close very late, and more. For your convenience, official tourism programs have information about activities every week and thanks to those, your experience in Korea could be one of the best ever.