"We weren't aware that Korea used computer systems to process its National Assembly elections. It's quite amazing."

On Nov. 30, the Ministry of the Interior invited people from diplomatic missions in Korea to the sixth Good Governance session, held at the National Election Commission (NEC). Twenty-one representatives from 20 countries, including Angola, Romania, Paraguay and Algeria, attended the day's events, which focused on Korea's electoral management and criminal justice systems.

During the session, the attendees were introduced to the NEC's electronic voting and vote-counting systems. They were also given an overview of the Korean Information System for Criminal Justice (KICS) used by a number of criminal justice bodies, including national courts, the Ministry of Justice, the supreme prosecutor's office, various police departments and the Ministry of Public Safety and Security.


The electronic voting and vote-counting systems use IT to provide the electorate with a range of voting methods so as to make the process more convenient, and to ensure speed and precision during the vote count.

The KICS is an electronic, one-stop criminal justice service that makes it easier for governing bodies to share judicial information. It helps to increase the accuracy and efficiency of the work processed, while also increasing transparency in the workplace.

The Good Governance series of introductory sessions was started by the Ministry of the Interior this year in response to requests made by some embassies and consulates in Korea that hoped to use the Korean government's public administration systems as a benchmark. The program launched in April with a tour of the National Police Agency and of the Incheon Metropolitan City Government. Since then, the ministry has organized a total of five sessions showcasing government bodies like the Anti-Corruption & Civil Rights Commission, the Ministry of Government Legislation and the Public Procurement Service.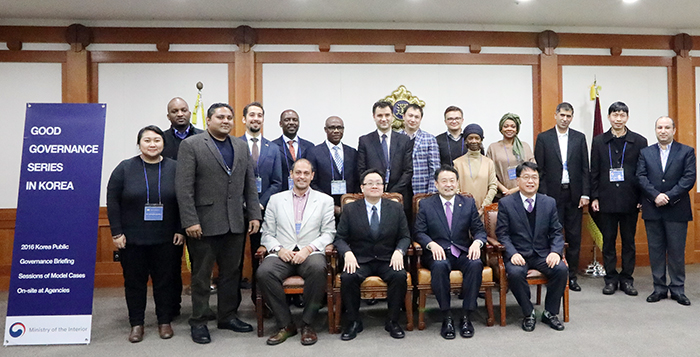 People from diplomatic missions in Korea, representing 20 different countries, pose for a group photo during the sixth Good Governance session at the NEC on Nov. 30.