All music that originates in Korea and that gains popularity overseas is broadly defined as "
K-Pop
." This umbrella term was first introduced only in the late 1990s. Up until that time, "popular music" was associated with any music that came from the U.S. or Japan. Largely influenced by Western music, Korea has since that time created a new genre, K-Pop, which is now making its way back across Asia and even further afield, to the U.S., Europe and Central and South America.
In recent years, a new trend has emerged in the pop world centered on K-Pop and its singers. As K-pop stars become increasingly popular on the international stage, they are receiving a flurry of calls for collaboration concerts from pop stars overseas. A range of musical cooperative projects between K-pop singers and other pop stars is now underway.
A month ago, the news hit the headlines that Korea's Crayon Pop, a hyper-colored, super cute five-member pop band, was going to open for global diva Lady Gaga on her upcoming tour. Gaga left a twitter message on March 21 in her verified account saying that, "I'm excited to announce June 26 through July 22 of Lady Gaga's artRave: The ARTPOP Ball will be opened by CRAYON POP!" The video for the group's hit "Bar Bar Bar" was attached at the bottom.
Crayon Pop's "Bar Bar Bar" took the nation by storm last summer. In the video, Gum-mi, Ellin, Cho-a, Way and So-yul dance up and down like super-cute engine pistons in colorful, eye-catching training sweats and helmets. In addition to their melodies that linger on, their energetic and fun dance moves, the so-called "Straight Five Engine Dance," assured the group's stardom, leaving the audience hungry for more and inspiring a series of parodies.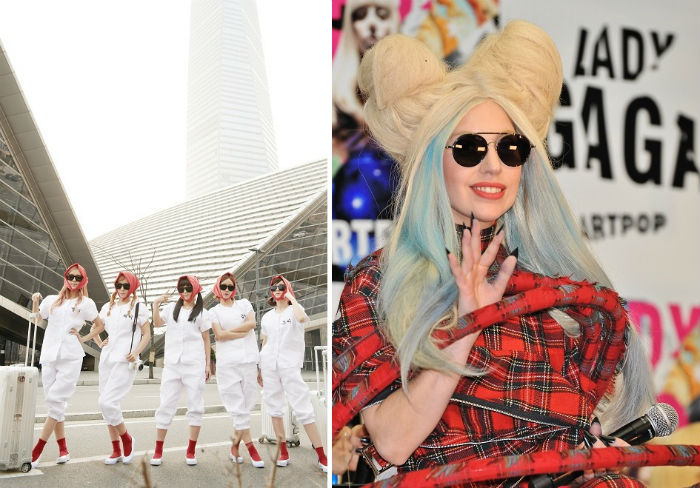 Lady Gaga, in search of an opening act, came across the music video and made up her mind. Crayon Pop is set to open for at least 13 Lady Gaga concerts during the upcoming U.S. and Canada tour.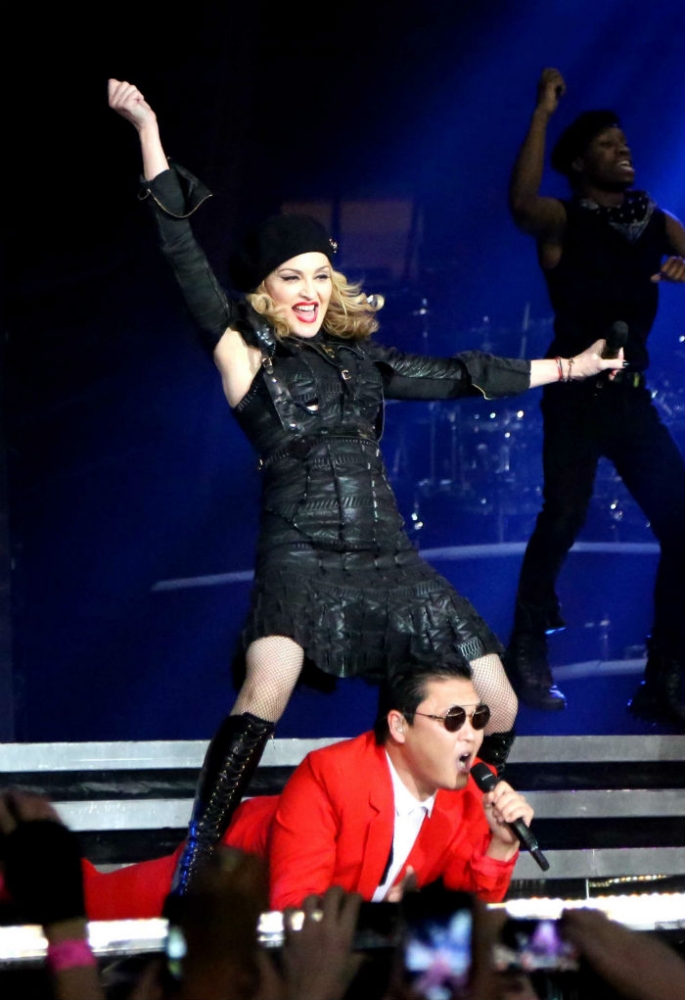 When discussing the popularity of K-Pop on the international stage, you can't not mention the role of PSY. As his music video for "Gangnam Style" on YouTube hit an all-time high in 2012, becoming the most-watched video in the shortest amount of time, his horse-riding choreography grabbed an enormous amount of attention, both at home and abroad. The "Gangnam Style" video at his official YouTube channel has just over 1.9 billion views.
In the wave of this newfound popularity, his dance move has been shared with a number of overseas pop stars. In November 2012, PSY joined Madonna on stage to dance the horse-riding dance and to sing her 2000 hit song "Music."
Following the Madonna concert, PSY shared the stage twice with rapper M.C. Hammer at the American Music Awards and at
Dick Clark's New Year's Rockin' Eve
where the two stars did a wonderful collaboration on remixes of "Gangnam Style" and "Too Legit to Quit." Currently, PSY is preparing for a new album scheduled to be released in mid-April. His fans can't wait, as one of the songs on the new album has a music video known to feature rapper
Snoop Dogg
, along with Big Bang's G-Dragon and 2NE1's CL.
Collaboration with K-Pop stars is not limited to concerts. As mentioned earlier, collaborative projects have gradually expanded in scope and now include jointly recording albums and featuring in music videos.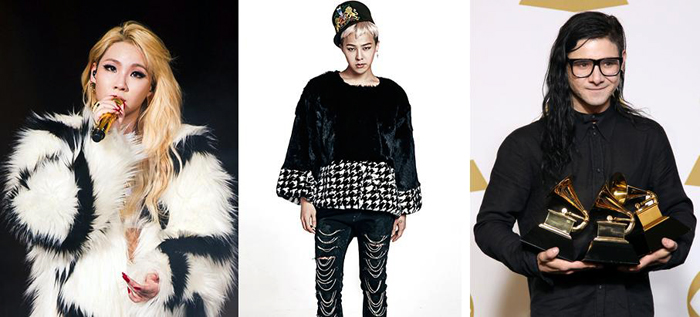 Previously, G-Dragon and CL were featured on electronic dance musician Skrillex's new album, "Recess," released last week. The album is now in second place on iTune's Chart, and fourth place in the Billboard 200.

There is still more to come from G-Dragon. He recently announced that he has a soon-to-be-released track with pop star Justin Bieber. Also, recently via twitter, G-dragon exchanged messages with rapper and producer Pharrell Williams that implied the possibility of collaboration, raising hopes among his fans.

Hip hop and pop from Korea now attract attention from across the world. It is Korean in origin, but its fanbase and influences are not limited to Asia. Likewise, Western music comes from Western countries, but it does not completely belong to Westerners. Similarly, good music is the fruitful outcome of the endless back-and-forth of cultural communication and exchange.

By Lee Seung-ah
Korea.net Staff Writer
slee27@korea.kr
[Source: korea.net]