Spring has come early this year. The Korea Forest Service (KFS) announced on January 19 that the yellow wintersweet flower (Chimonanthus praecox L. Meratia Loises) has begun to bloom in Jinju, in the southern part of the peninsula. The KFS's Southern Forest Resources Research Center said that the wintersweet blossomed about three weeks earlier this year than it did last year.
An air of spring is rapidly spreading into the central regions, too. On February 4, an Adonis flower was found blossomed in the Hongneung Arboretum in Seoul, according to the KFS. The Adonis has always been the first flower to bloom every spring. It normally breaks the ice and thrusts up onto the surface to bloom and thus goes by any one of three names in Korean: it is called the
seolyeonhwa
, meaning that it blooms in the snow, using the Korean word for snow,
seol
, for lotus,
yeon
, and for flower,
hwa
; it can be called the
binglihwa
, meaning ice,
bing
, "in between",
li
, and flower,
hwa
; or it can be called the
eoreumggot
, or ice flower.
The secret to the Adonis flower's ice-breaking ability lies in its roots. Once it breaks down the starches stored in its roots, it produces heat, normally about 7 or 8 degrees Celsius higher than its surroundings.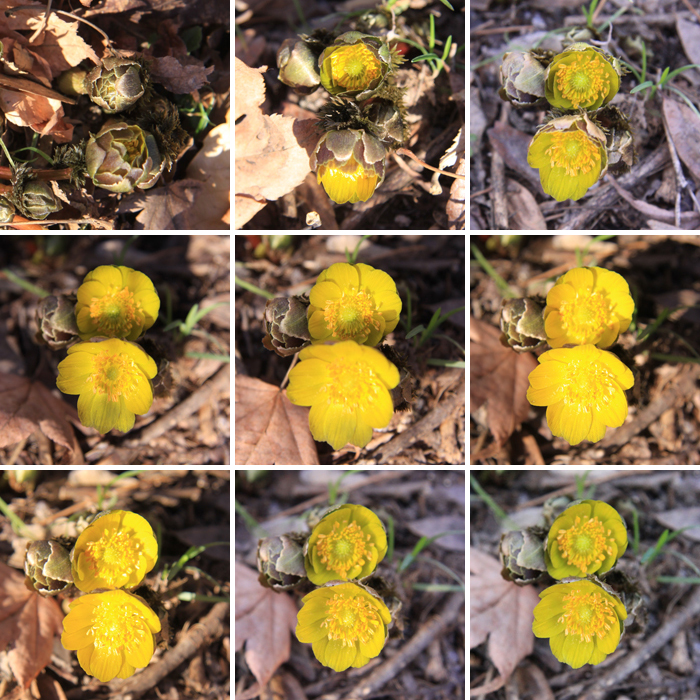 Regarding the early blooming of flowers, the Korea Forest Research Institute (KFRI) explained that it is probably due to this year's warmer temperatures that were 1.5 degrees Celsius higher than average this January overall. As we approached the end of the month, temperatures rose up even further, showing a 3.1 degrees Celsius difference over last year.

The Adonis flower in Korean is the boksucho. That consists of bok (福), meaning good luck or fortune, su (壽), meaning longevity, and cho (草), meaning a plant or flower. That gives it the name of the "long-lasting fortune" flower. It is a beloved flower across the region in China and Japan, where the same characters are used to name the plant, and in Japan, the flower is regarded as a beautiful New Year's gift.

Boksucho are rarely seen because it takes about six years for the seeds to fully blossom. Also, the flower only appears briefly during early spring. On the day it blooms, it begins to open its petals as the sun rises. The flower is then fully in bloom at around 11:30 a.m. and by 3:00 p.m., it has begun to close its petals.

"Since daytime weather is reportedly fine this weekend, visitors to the forest will probably be able to see a great number of boksucho in full bloom," explained a representative from the KFS.

The Hongneung Arboretum, part of the Forestry Research Institute, is an experimental forest in Seoul established for the development of plant sciences and for the preservation of Korea's diverse plant and related genetic resources. Located in Dongdaemun-gu, (Dongdaemun District), Seoul, the arboretum is perfect for a weekend outing.

By Lee Seung-ah
Korea.net Staff Writer
slee27@korea.kr
[Source: Korea.net]