A postal worker found an 80-year-old lady unconscious lying on the street and saved her life while she was delivering the mail in Muju, Jeollabuk-do (North Jeolla Province). In Gongju, Chungcheongnam-do (South Chungcheong Province), a postal worker came across a large pile of debris that had fallen off the median of a local road and immediately reported it to the city authority, preventing a potential accident.

Postal workers have been able to look after the marginalized in society, including the elderly, while doing their rounds and have reported various incidents. Now, their service has become official.

The postal workers-take-care-of-society service, literally called "red bicycles delivering happiness," started in September when the Ministry of Security and Public Administration (MOSPA) and Korea Post signed an agreement. Since December 4, the agreement has been expanded to cover the entire nation and now postal workers across the country will be involved in checking the living conditions of seniors who live alone and reporting any inconveniences or potential threats to the residents when they deliver the mail. They will also send civil service documents to regional authorities for those who have physical difficulties moving.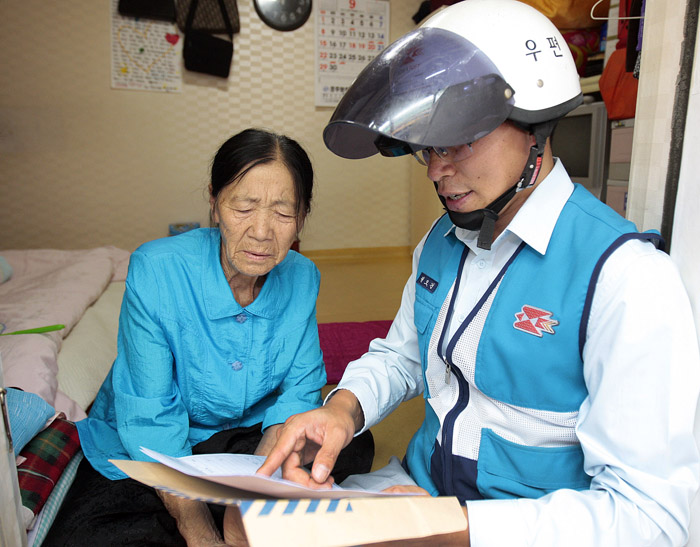 A postal worker (right) delivers a document to an elderly citizen. (photo courtesy of Korea Post)
The ministry's decision to cooperate with Korea Post came about because there's a shortage of public servants in charge of public welfare due to growing welfare demands and an increase in elderly people in farming and fishing villages living alone. The program is designed to cover blind spots in welfare services. Korea Post has a large network of post offices around the country and should be able to help in this regard. There are now 16,000 mail carriers affiliated with 3,600 post offices.

According to Statistics Korea, as of last year there are 1.8 million people aged 65 or over in rural areas across the country who account for almost 21 percent of the total population in those areas. Some 440,000 of them live in single-person households.

In addition, the ministry intends to expand its cooperation with private and public sector institutions to tap private resources and to connect households which have urgent needs with nearby broadcasting stations through the postal workers.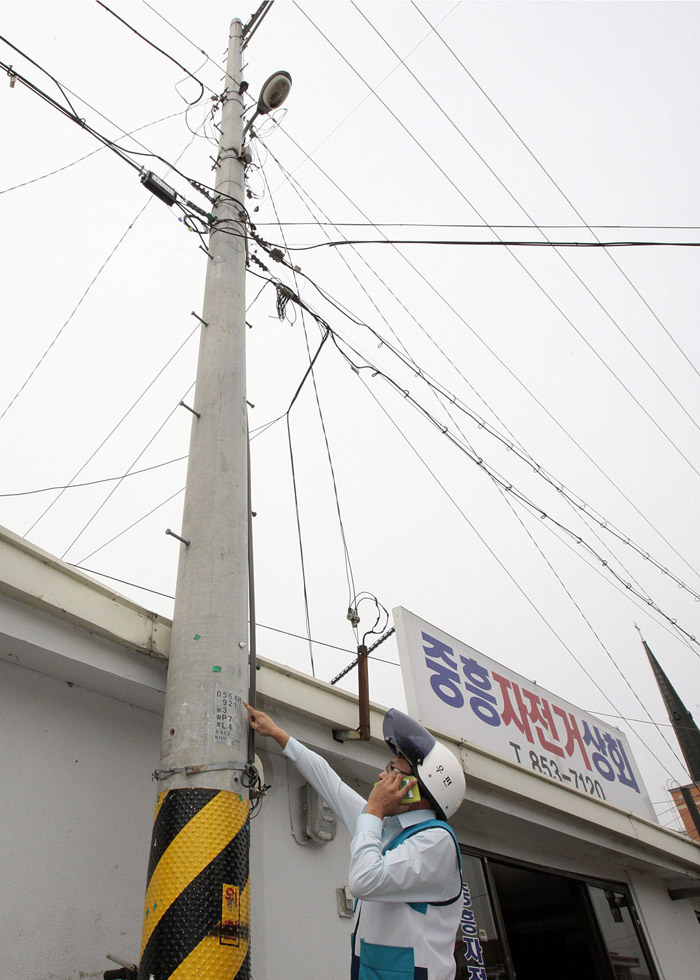 A postal worker reports telephone pole outages. (photo courtesy of Korea Post)
"The service is a good example of nationwide cooperation made for public welfare and safety," said Kim Sung-lyul, a deputy minister at the ministry. "I am grateful for the mail carriers who are participating in the program, in spite of their heavy workload."

"This has become a chance to improve welfare services for the marginalized in our society," said Kim Joon-ho, president of Korea Post.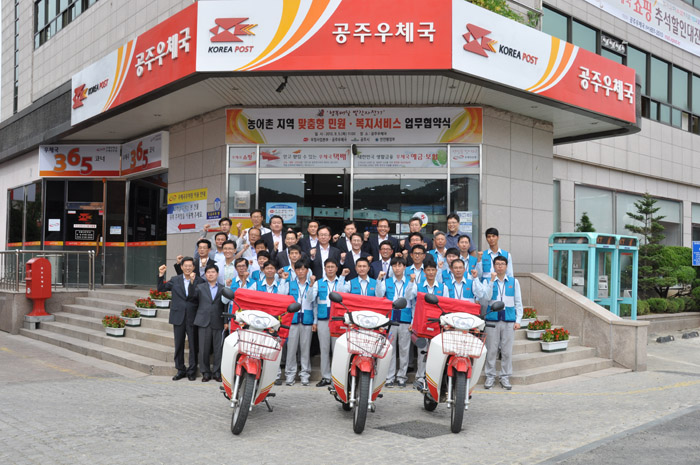 Korea Post and MOSPA employees pose for a group photo after signing the agreement. (photo courtesy of Korea Post)
[Source: Korea.net]