CNN recently published a travel piece about Korea, titled "10 things South Korea does better than anywhere else."

The top South Korean characteristic that grabbed CNN's attention was the nation's "wired culture," where, it said, people use their smartphones every minute of their lives, "paying at shops and watching TV on the subway." Both the Internet penetration rate and the rate of smartphone use amongst the entire population remain at around 80 percent, CNN reported. People's use of credit cards, or "whipping out the plastic," came in second. The news agency explained that even taxis have credit card machines.

Workaholics, coming in at number three, and business boozing, number four, were featured as two other prominent phenomena of modern Korea. CNN said, "lights in buildings [in any Korean city] blaze into the late hours," and, "when they're not working, Koreans are… out for way too many rounds of soju/ beer/ whiskey 'bombs.'"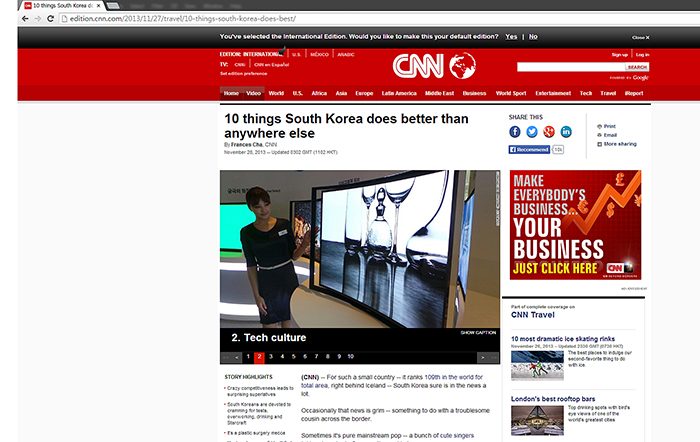 A CNN travel piece reports on, "10 things South Korea does better than anywhere else." Korea's high-tech culture is included.
In last place, CNN talked about Korea's plastic surgery industry. Describing the nation as the "Asian capital for cosmetic surgery," it reported that Korea has both the skilled surgeons and the great deals. "Whether it's a lantern jaw, wide forehead or long teeth, there's no feature doctors can't beautify," said CNN, adding that the skills continue to attract medical tourists from Russia, China, Mongolia and Japan.

The list also included Korea's innovative cosmetics (number five) that are made up of a variety of ingredients, even Jeju Island volcanic clay, outstanding female golfers (six), as well as the best service provided by flight attendants (eight).

In seventh place, came Starcraft. Since the game's debut in 1998, nearly half of all copies have been sold in Korea. Finally, CNN placed in spot number nine the frequency of blind dates among young people, as they meet for the first time.
[Source: Korea.net]