Big Bang′s G-Dragon and the Seoul Museum of Art are joining forces.
From June 9 to August 23, G-Dragon will hold the
PEACEMINUSONE: Beyond the Stage
exhibition at the Seoul Museum of Art.
The exhibition will show G-Dragon beyond the boundaries of music as he leads pop culture in fashion design, and more. Through the show, G-Dragon will lower the barriers of modern art and allow people of all ages to come and understand more familiar themes and subjects.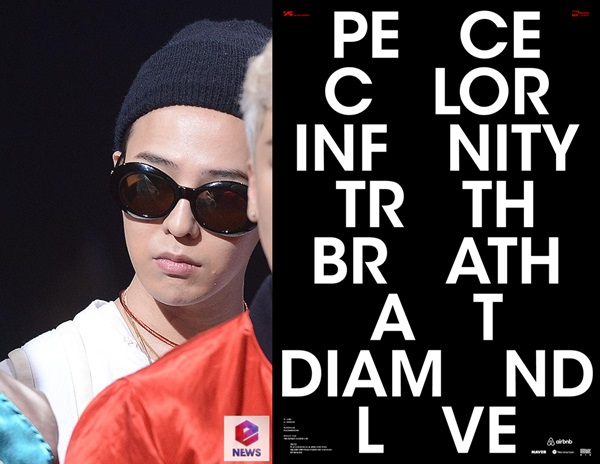 12 modern artist from in and outside of Korea have participated in the exhibition, including Michael Scoggins, Sophie Clements, James Clar, Universal Everything, Kwon Osang, Hyungkeun Park, Bang & Lee, and more, after being carefully chosen by G-Dragon in the past year.
The exhibition name, PEACEMINUSONE, is another name for the ideal world of peace that G-Dragon perceives and imagines, which comes along with the minus point of reality.
Along with the art works that were created through artistic interaction between G-Dragon and the artists, G-Dragon′s personal art pieces, for a total of around 200 artworks, will be showcased in Seoul, as well as Shanghai, Singapore, and more.
YG Entertainment stated, "With G-Dragon as the focus, representative artists of various modern art genres, such as photography, sculpting, conversation, installation and more, have gathered to create new cultural contents to contribute to the globalization of Korean art and introduce this exhibition to the world."
More information can be found at the official site.
This exhibition was sponsored by Air BnB, who agreed with G-Dragon′s vision of breaking down cultural boundaries.
Photo Credit: YG Entertainment
Article from CJ E&M enewsWorld (http://www.enewsworld.com/)