Customers visit a cosmetics shop at a shopping mall in Dubai.
"How can I use this?" "How many colors do you have for this product?"
They ask the staff there a range of questions.

The customers include ladies wearing traditional Arab garb which partially covers their hair or faces, except for the eyes, as well as those from either Asia or Europe. The customers' races are as diverse as their nationalities. Each customer grabs the products of their choice and asks about them. Some of them apply the makeup to their hands or faces.

This is an outlet for the Korean makeup brand Faceshop. This makeup retailer manages more than 20 shops in the UAE alone, including locations at popular shopping malls in Dubai and Abu Dhabi.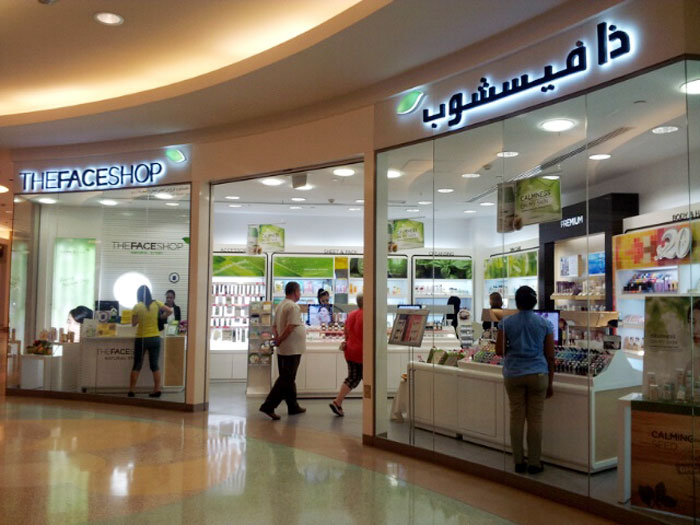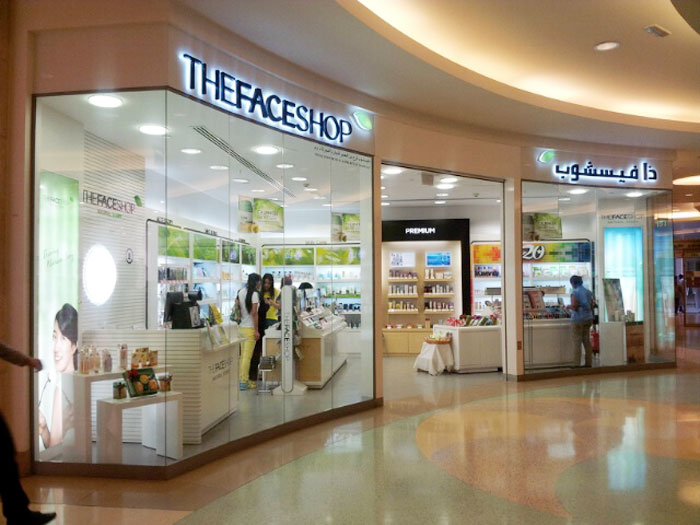 Launched in 2003, the Faceshop began penetrating overseas markets in 2004. Currently, it has locations in a total of 28 countries, covering Asia, the Middle East and Russia. Last year, the company's overseas sales reached USD 142 million, accounting for 25 percent of its total sales. In fact, the company has been concentrating marketing on both the Middle East and China. It manages about 30 shops in four countries in the Middle East, including Jordan and the UAE. In 2014, its annual sales in the Middle East alone hit USD 4 million.

The reason for its success is due to the products it stocks, which feature an affordable price, good design and finely-tuned features. For many Arab customers, many of whom cover much of their face and body due to various religious or cultural reasons, both the eyes and facial products are quite important. Faceshop's eye liners, brow liners, and mascaras are quite popular among such clients, as they have good colors and can make the eyes more distinctive and attractive. Two models for the company -- famous TV soap opera star Kim Soo-hyun and singer/ actress Suzy from the pop group Miss A -- also helped raise the Faceshop's profile, as teenagers and 20-somethings across the Middle East are crazy for Korean pop music and mass media.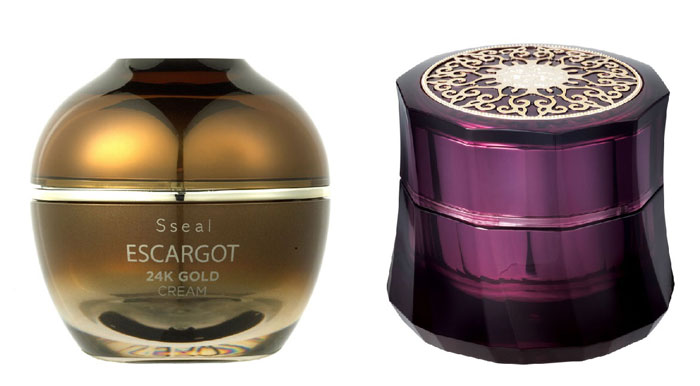 Escargot 24 Gold Cream (left) and Hwansaenggo Gold Cream are both popular among international customers.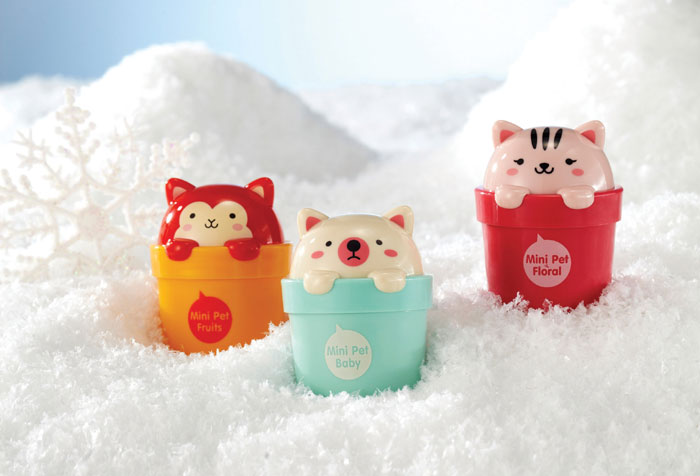 Another key to winning international success was developing products that take into consideration the various skin colors found among international customers. In the case of blemish balm creams (BB creams) and similar products, the Faceshop showcased a variety of colors and a range of tones, taking into account the various skin types among its customers. Other popular products include Smile Foot Peeling, a foot mask which helps people maintain clean and soft feet. According to one shop manager of a Faceshop location in Jongno, downtown Seoul, many mainland Chinese customers or customers from other Asian countries purchase more luxurious skin care lines, such as Escargot 24 Gold, which is known as "snail cream," as it contains snail extract and gold, and Hwansaenggo Gold, which contains Oriental medicinal ingredients as well as gold.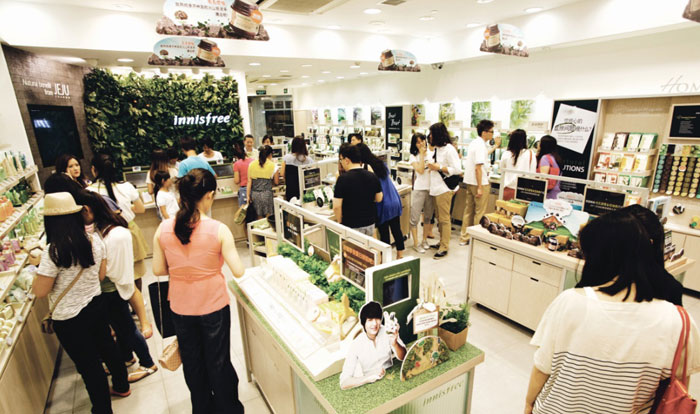 An Innisfree outlet in Shanghai is crowded with customers.
Another popular cosmetic brand that's attracting many international customers is Innisfree. Meaning, "an island that gives rest to the skin," Innisfree was first launched in Korea in 2000. Since then, the company has been developing a variety of skin care products by using as many as 12 clean, natural ingredients, including green tea, tangerine, canola oil, honey and even orchids, all from Jeju Island.
Since 2012, Innisfree has been entering overseas markets. Though only active internationally for a relatively short time, Innisfree has been winning popularity among Asian customers. Currently, Innisfree operates more than 100 shops in mainland China alone, including one in the Parkson Department Store in Shanghai. This brand has also opened more shops in Hong Kong, Taiwan, Singapore, Malaysia and India. The first month of sales at its flagship Orchard Road location in Singapore hit KRW 470 million when it opened in November 2013. Its second shop in Taiwan, which opened in June last year, saw daily sales of KRW 100 million. According to Innisfree, its overseas sales accounted for about 25 percent of its total sales last year, and the figure is expected to increase this year.

Some of the most popular Innisfree products among its overseas customers include a green tea seed serum and its super volcanic pore clay mask. Green tea seed serums are also known by the catch phrase, "3 second moisturizing after washing the face." This product is made from 100 percent pure green tea extract, freshly grown on Jeju Island. To make the serum, freshly picked green tea leaves are steamed for 30 seconds before taking an extract of the fluid in order to maintain the amino acids and minerals needed to keep the skin moist as long as possible. Since its launch in 2010, this serum has been sold out in most locations in central Seoul, including the one in Myeong-dong, Seoul's famous shopping street. The product continues to enjoy a lasting popularity among customers.

The super volcanic pore clay mask has been another iconic hit. It is made from volcanic rock and particulate from Jeju Island, and has shown excellent exfoliating affects to help clean and maintain the pores. It has won a total of 22 international beauty product awards in the mask category, including a China 2013 Cosmo Beauty award and a Singapore 2014 Cosmopolitan Beauty Grand Prix award.

Some Innisfree locations also really grab the customers' attention, as Innisfree has been operating two "Jeju House" locations in Korea: one in Samcheong-dong in Seoul and the other on Jeju Island itself. Visitors to the Jeju Houses can learn more about how Innisfree products are made with natural ingredients from Jeju Island. They can even try to make their own eco-friendly cosmetics and sample some organic food grown there.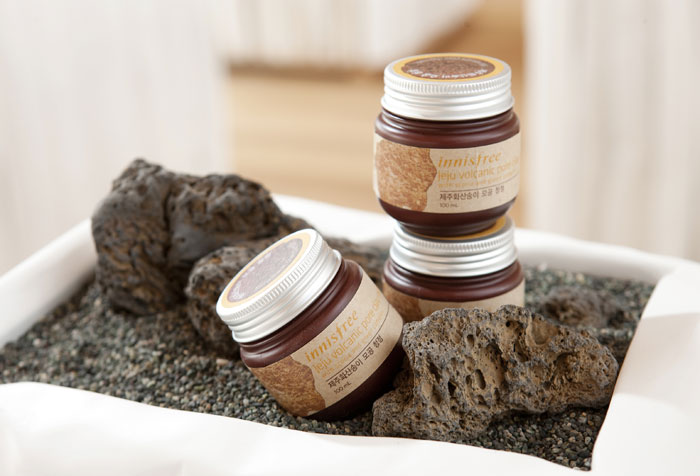 Super volcanic pore clay mask is recognized for its exfoliating effects, cleansing the pores and helping facial skin look more even.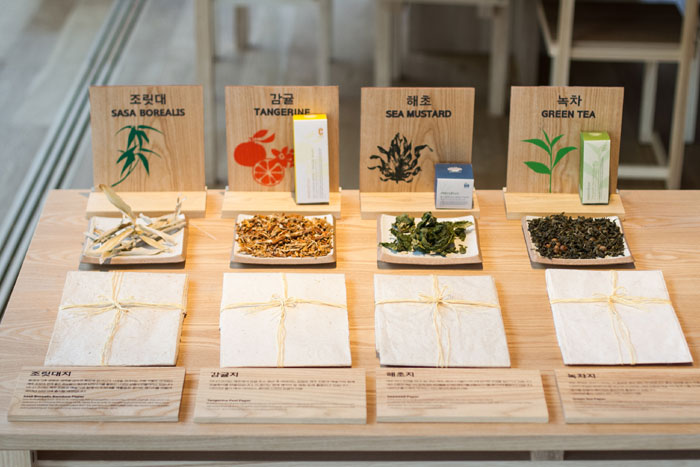 At Innisfree's Jeju House outlets, visitors can learn more about the natural ingredients that go into their makeup, such as seaweed, tangerine and green tea, which are all used in a range of products.