Korea abounds in cultural facilities of all levels and categories where people can enjoy exhibitions and stage performances throughout the year. These places offer an on-the-spot glimpse into the cultural and artistic achievements of Koreans past and present, regarding both traditional and modern trends and tastes. From internationally recognized museums to small theaters where performers and spectators can casually mingle and interact, these facilities vary in type and scale to satisfy the diverse interests and penchants of their target audiences.
2009 saw a continuation of the steady growth of box office revenues, which totaled some 1.928 trillion won. This constitutes the first time that the 1 trillion won mark has been surpassed

In addition to the steady stream of blockbuster films such as 'Haeundae', which was seen by 10 million people, and 'Gukga Daepyo (Take Off)', for which 8 million tickets were sold, the Korean film industry has come to be characterized by more balanced development. For example, 2009 saw the low-budget independent film 'Ddongpari (Breathless)' win the VPRO Tiger Award at the 38th International film Festival in Rotterdam. In adition, another low-budget independent film, 'Natsul (Daytime Drinking)', won the NETPAC Award at the 2008 Locarno International Film Festiva

There are 344 public museums in Korea, including 29 being funded and operated by the central government. The representative museums are the National Museum of Korea, the National Folk Museum of Korea located in downtown Seoul and the National Contemporary Museum of Art.

In addition to the national and public museums, there are 91 museums being funded and operated by college and university and more than 336 private museums that have been established by private citizens, religious organizations and business enterprises.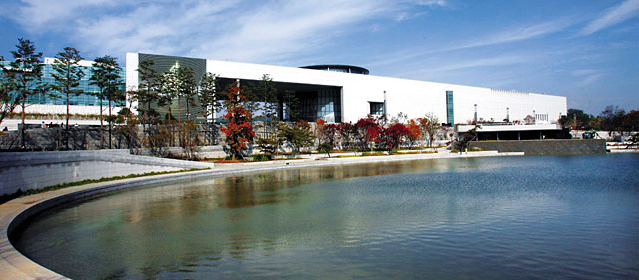 The National Museum of Korea www.museum.go.kr
In most cases, their collections consist of cultural artifacts which involved a lifetime of dedicated efforts to gather. The collections range from paintings, books, furniture, embroidery to religious and traditional objects. Museums with unusual collections have appeared including a museum specializing in kimchi, Korea's trademark pickled cabbage and radish.

Korea has about 80 multi-purpose theaters. The National Theater, founded in 1950, is located at the foot of Mt. Namsan in the heart of Seoul. With a goal of preserving and developing traditional culture and contemporary performing arts, it has gone through a half century of hardship and change and is now rightfully proud of its four resident companies who stage some 35 regular productions annually.

The four are the National Drama Company, National Changgeuk (Korean musical drama) Company, National Dance Company and National Traditional Music Orchestra. These companies frequently present special tour performances overseas and across Korea. Besides the four resident companies, three others were quite active - The National Opera Company, The National Ballet Company and The National Chorus. These three were reborn as independently-run companies residing at the Seoul Arts Center in February 2000.
One of Korea's largest multi-purpose theaters is the Sejong Center for the Performing Arts, located in the center of Seoul. Affiliated with this municipal arts center, opened in 1978, are the Seoul Philharmonic Orchestra, the Seoul Metropolitan Korean Traditional Music Orchestra, the Seoul Metropolitan Choir, the Seoul Metropolitan Theater Company, the Seoul Metropolitan Musical Company, the Seoul Metropolitan Dance Company, the Seoul Metropolitan Opera Company, the Seoul Metropolitan Boys and Girls Choir and the Seoul Youth Philharmonic Orchestra. The center's main hall can seat 3,800, while its pipe organ is one of the finest in the world.

The Seoul Arts Center, located in southern Seoul, was Korea's first multi-disciplinary art and cultural center. The center, covering a total land area of over 234,385 square meters and a total floor space of 120,951 square meters, opened in three stages from 1988 to 1993.
With its beautiful architecture, the Opera House has three separate theaters. The Opera Theater, with 2,278 seats, is equipped to host grand operas, ballets and more. Towol Theater, which can seat 669, is a medium-sized theater for plays, smaller-scale operas and modern dance. The Jayu Theater, which can accommodate a maximum of 350 people, is for experimental and avant-garde performances.

The Concert Hall, with 2,600 seats, is a large hall for full orchestras, while the Recital Hall, which can accommodate up to 380 seats, is for solo or chamber orchestras. And the Center has an art gallery, calligraphy hall, arts library, open-air theater and film archive.

Since its completion, Seoul Arts Center has been recognized by artists from a number of disciplines as a unique place for fostering, promoting and staging creative works. As a world-class institution, the Seoul Arts Center now plays a role in leading Korean culture into the next century.