South Korea is known as a shoppers' paradise, offering a great variety of items at reasonable prices. Tourists may purchase many necessities and souvenir items at any of the hundreds of shops in department stores and shopping arcades in Seoul as well as major cities throughout the country.

Popular shopping items include jewelry, ginseng, furs, silk, antique chests, ceramics, lacquerware, brassware, embroidery and many more unique Korean products


Wholesale Clothing Markets (Clothing Shopping Mall)
When it comes to buying clothes in Korea, the wholesale clothing markets concentrated in Dongdaemun are becoming Korea's leading shopping centers. Thousands of small shops set in modern facilities open until daybreak attracting many fashionable night shoppers.


Traditional markets
Traditional markets are where you can experience customary Korean shopping culture. At these markets, you will only find one-story buildings and small handcarts full of interesting goods.
When you shop at one of these traditional markets, it is a good idea to shop at a comfortable pace, eating snacks at a street cart, and absorbing the culture. Carry Korean currency because it is unlikely that these shops accept foreign currency or credit cards. Gyeongdong, Kwang Jang and Namdaemun are among Seoul's most popular markets.
Department Stores
Korean department stores usually have sales in each of the four seasons. Generally, each department store has a two-week long sale period in January, April, July and October. It is a good idea to check out the advertisements and details of these sales on the Internet. You can also contact the KTO Korea Travel Phone (+82-2) 1330 to learn the exact date for the sale periods.
Large Discount Marts
These marts offer a similar variety of goods as department stores in Korea, but at discounted prices. One difference is that these marts typically don't carry luxury brands of clothing. Some of the largest discount marts in Korea include E-mart, Homeplus (formerly Homever), Lotte Mart, and Kim's Club.
Itaewon
The shopping district of Itaewon has its roots in the 1960s. It primarily served as a shopping district for visitors and foreign residents, but nowadays it is frequented by everyone. Itaewon is particularly loved by Korean trendsetters and fashionistas who visit the area to find new and unique items. The antique shops found here should not be missed.
Myeong-dong
Myeong-dong is more than a shopping district. It is like an amusement park full of excitement from morning till night. It has everything from large department stores to small shops and even street vendors selling all sorts of things. There's also a great selection of eateries, cute coffee shops, and movie theaters to choose from, so you'll never find a minute of boredom. Myeong-dong will undoubtedly be able to satisfy all your shopping needs.

* Myeong-dong Station (Seoul Subway Line 4), Euljiro 1-ga Station (Seoul Subway Line 2)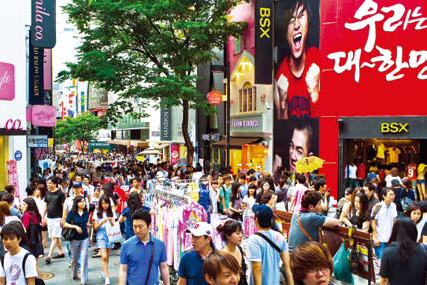 Myeongdong
A shopping district in downtown Seoul, is where you can buy the latest high fashion and luxury brands. This is one of the most popular tourist spots among foreigners.
Dongdaemun & Namdaemun Markets
Dongdaemun and Namdaemun Markets are probably two of the most crowded areas in Seoul. The markets are packed with both visitors and locals in search of great bargains, and everything from fashion to artificial grass can be found here. After a long day of shopping, the sweet smell of food coming from the food carts lining the alleyways will make you even hungrier.

* Dongdaemun Market: Dongdaemun History & Culture park Station (Seoul Subway Line 2, 4 or 5), Dongdaemun Station (Seoul Subway Line 1 or 4) * Namdaemun Market: City Hall Station (Seoul Subway Line 1 or 2), Hoehyeon Station (Seoul Subway Line 4)
Insa-dong
Insa-dong is the place to go to see and feel traditional Korea. The streets are filled with various art works, Korean antiques, traditional teahouses and restaurants where you can experience the unique culture of Korea. There are also many souvenir shops that have traditional gifts.

* Jonggak Station (Seoul Subway Line 1), Anguk Station (Seoul Subway Line 3), Jongno 3 (sam)-ga Station (Seoul Subway Line 1 , 3 or 5)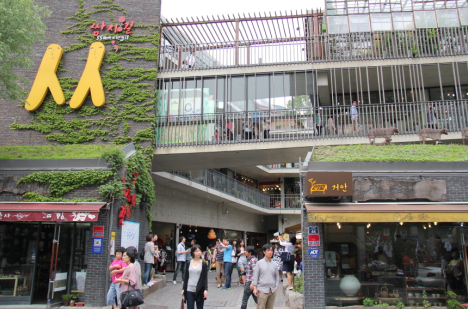 Insa-dong
A representative traditional cultural street always full of foreigners. Filled with galleries, folk crafts shops, traditional tea shops, and Korean restaurants.
Ewha Womans Univ., Hongik Univ., Apgujeong-dong
Well-established designers are not the only ones setting fashion trends in Korea; young and aspiring artists also contribute to today's fashion. In the areas of Ewha Womans University, Hongik University and Apgujeong, young designers can be seen selling their creations from carts on the streets. These ambitious entrepreneurs bring life and vibrancy to the streets of Korea and are creating change within Korea's fashion industry.

* Ewha Womans University Station (Seoul Subway Line 2)
* Hongik University Station (Seoul Subway Line 2)
* Apgujeong Station (Seoul Subway Line 3, Exit 2)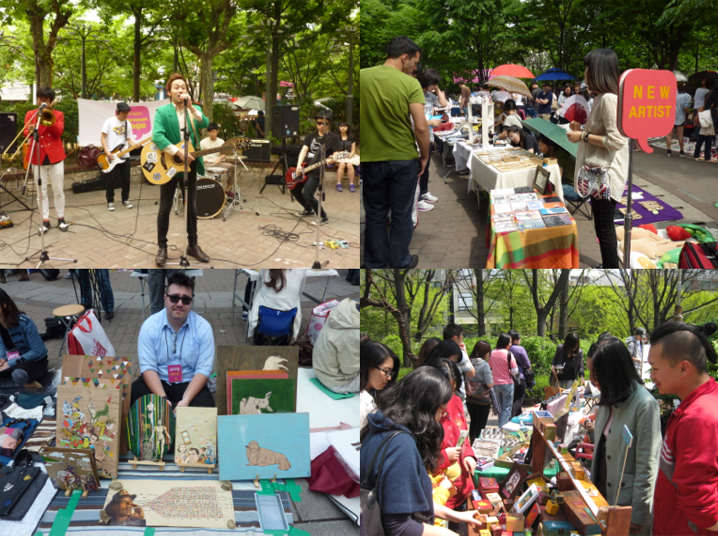 Hongdae Free Market is a bazaar that features only handmade works. (Photos courtesy of the Living and Art Creative Center)