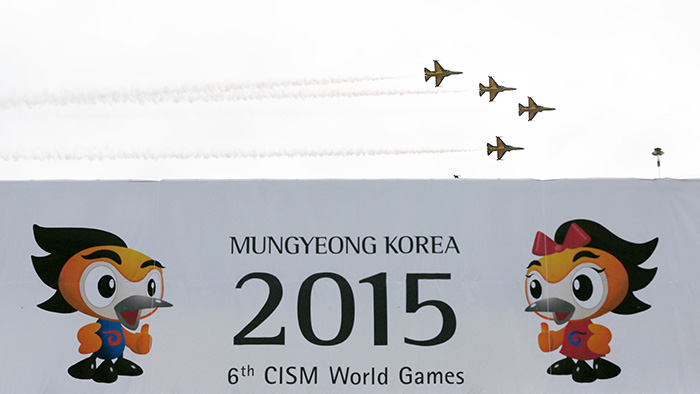 The world's largest military sports competition kicked off Friday in the central South Korean city of Mungyeong amid hopes for a world without war and blessings from the president of the host country, South Korea.
The 6th CISM World Games in Mungyeong, North Gyeongsang Province, is the largest in history with 7,000 athletes from 117 countries participating. They will be competing in 24 sports, up from 20 at the previous CISM Games in 2011, organizers said.
South Korean President Park Geun-hye declared the opening of the competition, which she said "promises to foster friendship and peace among soldiers from around the world."
Mungyeong is where Park's father, Chung-hee, worked as a teacher before joining the Manchukuo Imperial Army. Park Chung-hee was South Korea's president from 1961-79.
At KAFAC Sports Complex, South Korea's flight display team of Black Eagles wowed spectators in a pre-ceremonial air show.
The ensuing ceremony involved demonstrations by South Korea's guards of honor and a military taekwondo team. A visibly delighted Park, who had entered the stadium by then, clapped to the latter performance, which transpired in a particularly military manner with ultra-precise synchronization.
After the South Korean national flag was raised, delegations from each country marched in wearing their respective national uniforms in a rare, peaceful assembly of militaries from around the world.
Like any other athletes, soldiers celebrated the occasion by taking selfies, some with a selfie stick for more proper documentation.
Following the lighting of the cauldron, "hwarang"-inspired dances were staged. Hwarang were the elite group of young men during the Silla Dynasty (57 BC-935 AD), which Mungyeong was part of.
Other highlights include "chajeon nori," a traditional Korean game involving two men standing atop frames supported by their respective teammates, and an impromptu tug of war between participating athletes.
The show wrapped up with a soldier dance inspired by "kuejina chingching nanae," a Korean folk song meaning "how splendid," and the iconic "Arirang."
The ceremony was produced by Han Jung-gu, who directed the opening and closing ceremonies of the 1988 Seoul Olympics, and directed by Son Jin-chaek, who orchestrated the opening and closing ceremonies of the 2002 World Cup.