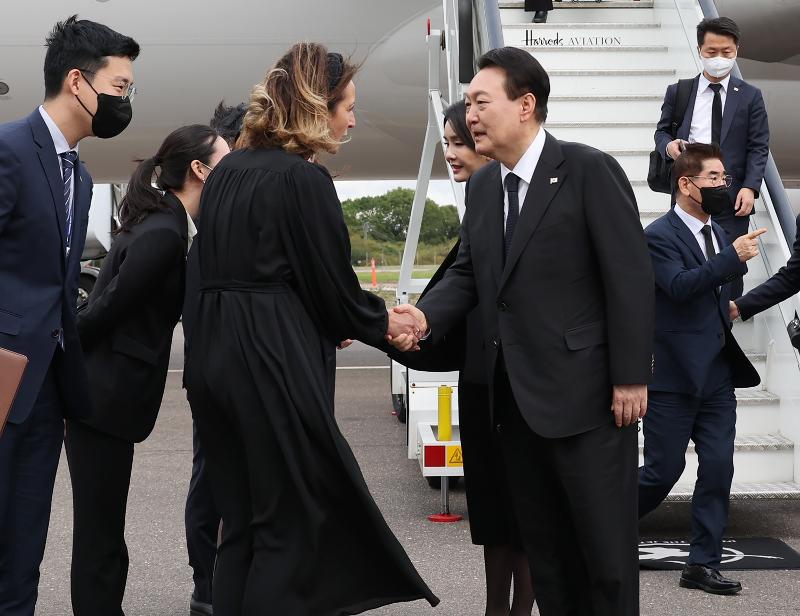 President Yoon Suk Yeol and first lady Kim Keon Hee on Sept. 18 are greeted by British officials after arriving at London Stansted Airport.
President Yoon Suk Yeol on Sept. 18 arrived in London the day before the funeral of Queen Elizabeth II, starting his seven-day overseas trip.
After arriving at London Stansted Airport, the chief executive and first lady Kim Keon Hee began their official schedule by attending a reception hosted by King Charles III.


Senior Secretary to the President for Public Relations Kim Eun-hye discussed the reception at a media briefing held at the press center inside the hotel London Hilton on Park Lane.
The secretary quoted President Yoon as expressing to King Charles III his deep condolences over the queen's death during the hourlong reception at Buckingham Palace.

The president told the king, "I will never forget the queen, who always dedicated herself to defending freedom and peace," adding "The people of the Republic of Korea also share your grief."

King Charles III responded by thanking the president for making such a long trip and revising his schedule to visit the U.K.
The king introduced members of the royal family to President Yoon, who exchanged greetings with Queen Consort Camilla and Prince William and Princess Catherine (Kate Middleton) of Wales.
The princess expressed her intent to visit Korea, where she has never gone, if invited. The king, whose first trip to Korea was back in 1992, also said he hoped for the opportunity to visit again.

President Yoon told them that they were always welcome, according to Secretary Kim.

At the reception, the president also spoke to world leaders like British Prime Minister Liz Truss, U.S. President Joe Biden, French President Emmanuel Macron, European Council President Charles Michel and German President Frank-Walter Steinmeier.
President Yoon greeted President Biden and pledged to see him again soon at the United Nations General Assembly.

Before the reception, President Yoon canceled plans to lay a wreath at the Korean War Memorial in London and visit Westminster Hall, where the queen is lying in state, due to traffic control.

He will attend her state funeral at Westminster Abbey on Sept. 19 at 11 a.m. Around 2,000 people are expected to attend including 500 heads of state and members of royal families from other countries.
After the funeral, President Yoon will wrap up his two-day London visit by attending a ceremony to award national medals to Korean War veterans. He will then fly to New York to attend the U.N. General Assembly.
Korea.net