"Lots of colour, very fresh, and my favourite pickles, dips, different textures and very good fish…"

"Been diving to forage these fruits of the seabed: abalone, sea conch and sea cucumber. We got a load of sea urchins…"

"Mushroom picking with a cool mushroom dude in a UNESCO World Heritage forest... Mushrooms are so delicious."

These are some of the comments Jamie Oliver, a celebrity British chef, said on his Instagram profile alongside uploaded photos as he wrote about his trip around Jeju Island.

Oliver visited Jeju Island from April 27 to May 1. He said, "20 hours of traveling to a far away part of Korea and then a quick lunch. You can see I'm excited. It was great," expressing his joy for the food of Jeju Island for which he longed. On Instagram, he shared photos of not only the island's food, but also of traditional markets and hawkers, and of the famous haenyeo Jeju woman divers.

Throughout his trip, he focused particularly on the natural healthy food of the island and noted that it was the key to longevity and to staying healthy.

Having shown a strong interest in healthy eateries that use fresh, natural ingredients, he said, "I had the pleasure to spend time with a 117-year-old Korean woman! Simply amazing."

He also said that he picked fresh shitake mushrooms with a Jeju resident, noting to his followers that the island is home to UNESCO World Heritage forests and woods.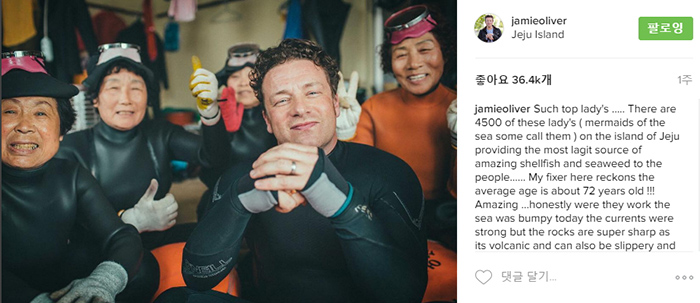 The chef's interest in fresh natural ingredients wasn't limited solely to mushrooms. He dived into the sea with the woman divers to catch abalones, sea urchins and sea cucumbers in the clean Jeju waters. He met 17 of the elderly female divers and said, "My fixer here reckons the average age is about 72-years-old!!! Amazing... Honestly, where they work the sea, it was bumpy today and the currents were strong. The rocks are super sharp as it's volcanic, and they can also be slippery. Once they harvest all the shellfish, they have to carry 15, 20 kgs of catch back to their camp. Not so normal for people of that age, but very inspiring to witness," and concluded by calling them all, "top ladies."