The New York Times has praised kimchi in a recent article.

The New York-based daily reported in an article on January 20, "Cooking With Kimchi," that, "It is the very backbone of Korean cuisine," and that it is, "eaten enthusiastically at every meal, and daily life is unimaginable without it." The newspaper compared kimchi to sauerkraut, a German pickled cabbage, and wrote, "To describe it only as a fermented vegetable mixture or a pickle, though, is hardly fair. This is Korean soul food."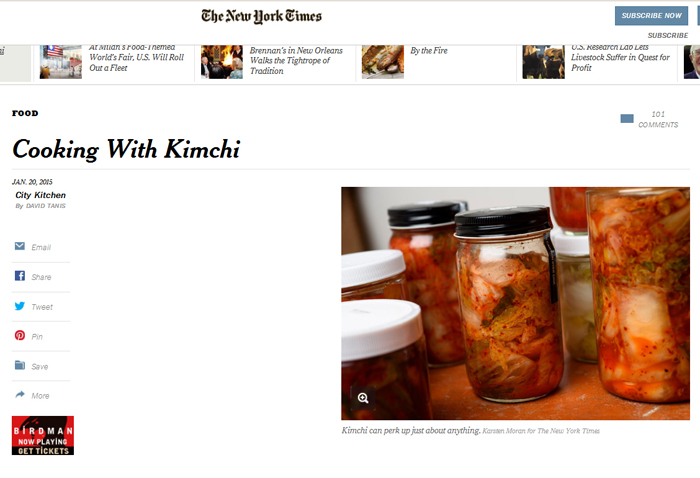 The daily said that kimchi can perk up just about any Korean food and that it is commonly used in traditional cuisine as a side dish with grilled foods like ribs, or
galbi
, served with steamed rice. It also wrote that, "Adding it to soups, stews, noodles or rice dishes gives them more dimension," and then gave the example of kimchi
jjigae
, "a hearty traditional stew-like soup, in which pork belly and kimchi simmer together until the whole is truly greater than the sum of its parts."
The New York Times said, "In the United States, ready-made kimchi is more widely available now than ever before. You will find it in Korean groceries, of course, and at health food stores, but many supermarkets stock kimchi, too." It also explained that there are hundreds of variations of kimchi, developed centuries ago, and that every family in Korea used to make its own kimchi.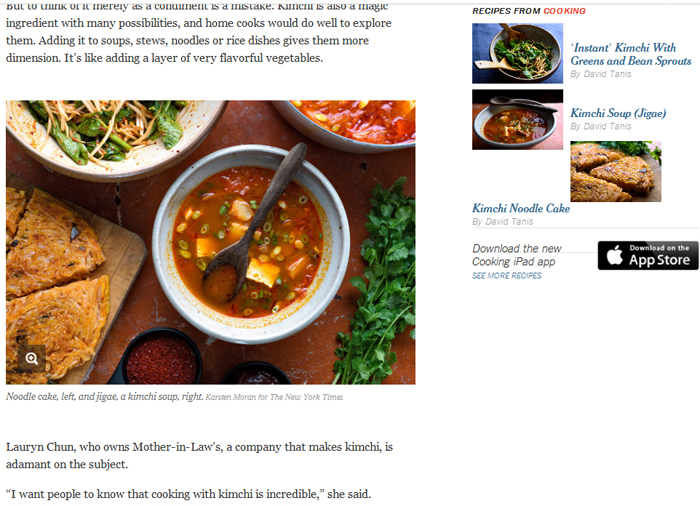 As for the health effects of kimchi, the New York Times said that, "Like yogurt, it is probiotic, aiding digestion and strengthening the immune system."
Finally, the newspaper added that a typical kimchi container, "Contains carbon dioxide; it's apt to be explosive," and the lid needs to be twisted open slowly.