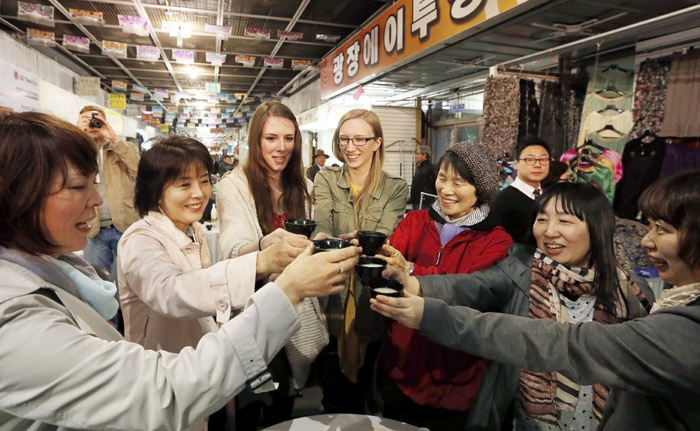 A tasting party for makgeolli, a traditional rice-based alcohol similar to beer and consumed by commoners throughout Korean history, was held at Gwangjang Market on April 10, a well-known traditional market located in central Seoul. Both international and domestic visitors enjoyed the food and nightlife of the market, tasting various varieties of the beverage.

Actor Song Il-gook participated in the event, dubbed as the "Makgeolli Wanderers" tour (unofficial translation), and it was organized by Professor Seo Kyoung-duk of Sungshin Women's University.


Kim, a German exchange student at Hanyang University, said, "I like the soft and deep taste of
makgeolli
," even though her home country is known for its beers. Her German friends Dennis and Teresa, both of whom also study at the same university, accompanied Kim to the promotional event. They toasted their cups of
makgeolli
with the other participants, enjoying their time in the traditional market.
Shindo Yumi, a Japanese visitor who came to the market with her friends, said in Korean that she began to take an interest in
makgeolli
after she saw actor Song Il-gook drinking it on TV. She said she enjoys drinking
makgeolli
because, "each of the traditional drinks has its own uniqueness with a different taste, which cannot be found in Japan."

Song said, "It's a pity I can't drink as much makgeolli as I want, because I recently started shooting on another film, but I usually really enjoy it." He tasted the different varieties of makgeolli on offer and showed his appreciation for the traditional beverage.

Professor Seo said, "I scoured the whole country and was able to bring a few makgeolli varieties to this event, each with its own unique, local characteristics. We are planning more such events across the country, so that both Koreans and visitors can enjoy makgeolli and have fun chatting with others."

By Yoon Sojung
Korea.net Staff Writer
arete@korea.kr
[Source: Korea.net]