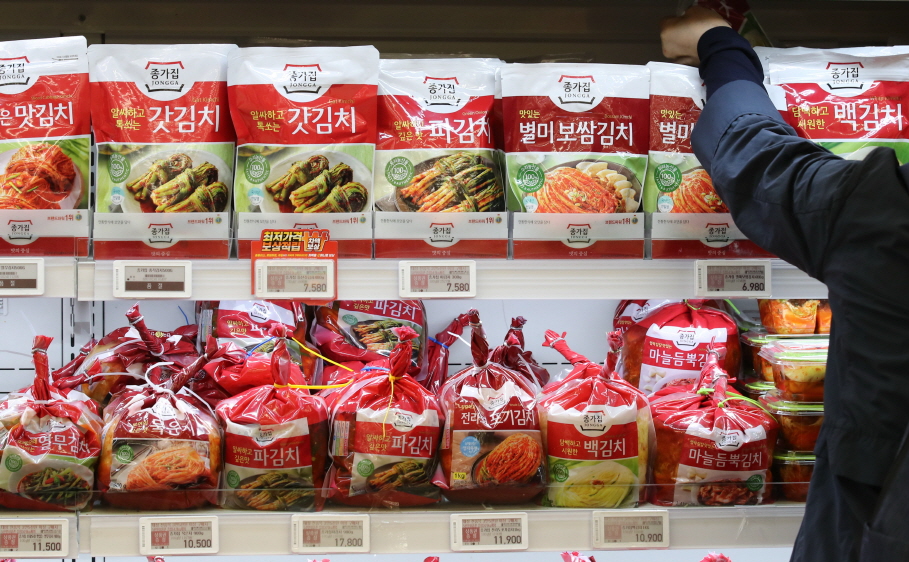 Kimchi exports last year reached a record high, with the spicy condiment seeing a trade surplus for the first time in 12 years. The photo shows kimchi products at a discount store chain in Seoul.
Kimchi exports last year posted a record-high volume.
The Ministry of Agriculture, Food and Rural Affairs on Jan. 9 said last year's kimchi exports reached the tentative amount of USD 159.9 million. Thus the spicy condiment posted its first trade surplus since 2009 of USD 19.2 million.
Overseas shipments of kimchi rose an average 18% per year over the past five years. The number of countries to which kimchi is exported also jumped from 61 in 2011 to 89 last year.
The ministry said the growth of kimchi exports was thanks to soaring global interest in health since the outbreak of the COVID-19 pandemic and the popularity of K-pop and Hallyu (Korean Wave), which has raised awareness of Korea's leading fermented food.
The ministry pledged to expand kimchi's consumption base by promoting the excellent quality and safety of Korean-made kimchi and supporting the development of processed food using it.
Korea.net