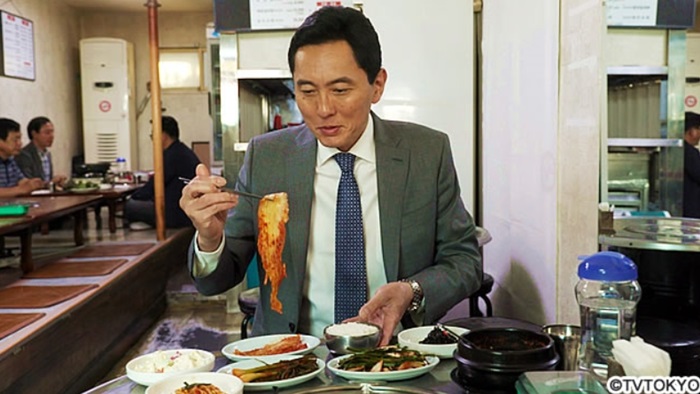 The producers of the Japanese TV series 'Kodoku No Gurume,' or 'The Solitary Gourmet,' visit Korea from May 6 to 12 to film an episode in which the main character, Goro Inogashira (pictured), travels to Korea on business. (TV Tokyo)
"Kodoku No Gurume," or "The Solitary Gourmet," is a Japanese TV series that has been exported to eight different countries, including Korea, mainland China, Germany, Spain and Brazil, creating in its wake a fabulous foodie frenzy. The show revolves around a salesman named Goro Inogashira who eats alone at various restaurants after work.

Last month, from June 6 to 12, the series producers visited Korea to shoot an episode in which Inogashira travels to Korea on business, to import traditional handicrafts. While in Korea, he sits down for a Korean meal at Jongjjeom Sutbul Galbi (종점숯불갈비), in Bogwang-dong, Seoul, and at Tobang (토방), a restaurant in Pyeonghwa-dong, Jeonju City in Jeollabuk-do Province.

The producers said that they had often thought about bringing the show to Korea, a country with so much good food to eat. "We finally made our dreams come true," they said.

Korea.net had a chat with director Kenji Mizoguchi in a written interview to learn more about his time in Korea. The director picked bibimbap, cheonggukjang thick soy bean paste soup and pork spare ribs as some of the heartiest Korean dishes you can taste in local markets.

-Why did you select those two restaurants?

What these two restaurants stand for aligns well with the outlook of our show. The two places aren't overly crowded, have a local vibe, and are known for their delicious food. Our writer, Kusumi Masayuki, who created the original manga series, said that these places embody a feeling of the past, just like Japan's Ueno and Asakusa neighborhoods.

-What did you think about the bibimbap and the cheonggukjang thick soy bean paste soup that you tried in Jeonju?

Jeonju remains a beautiful town, deeply steeped in tradition. If you walk a little from the main road, you'll find Tobang, a restaurant run by two women that serves home-style cooking in Pyeonghwa-dong. Bibimbap and cheonggukjang thick soy bean paste soup are the most popular dishes, and not only are they tasty, they are priced at a reasonable KRW 6,000. Bibimbap is made with ingredients that are familiar to the Japanese. Into this, I tried mixing some cheonggukjang and I noticed that the taste changes completely, depending on how much soup was added. This was a lot of fun. After taking a bite, I found myself saying, "Wow!" out of amazement.

-What did you think of the pork spare ribs in Seoul?

The restaurant Jongjjeom Sutbul Galbi, run by a mother and son duo, is located in Bogwang-dong on a narrow street, in a neighborhood lined with telephone poles and stray napping cats. Their main dish is galbi ribs, a well-known Korean dish that was a favorite among "The Solitary Gourmet" team. Usually when I think of Korean galbi ribs, I think of beef, but I learned for the first time that Koreans eat a lot of pork as well. Not only are the ribs good, the dipping sauce is delicious, too. The son has such superb grilling skills, he makes it look like a type of craft.

- Any words for viewers that have seen the Korean episode?

The environment definitely feels different here in the birthplace of Korean food. Any kind of food is best served and tasted in that country's environment, in its own atmosphere. I hope that many people will visit Korea, go to these two restaurants, and come away with a new outlook, having breathed the air in that space.
Korea.net