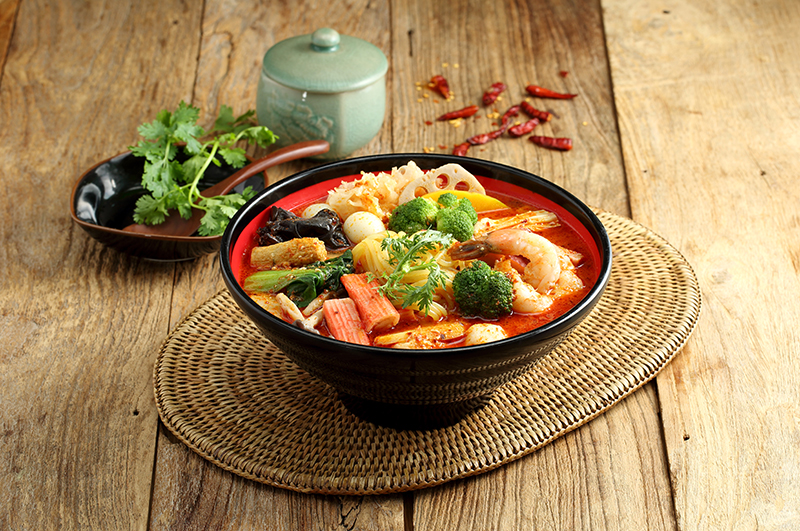 Many Koreans have gotten hooked on the mouth-numbing Chinese mala sauce, so much so that restaurants serving this dish have popped up all over Seoul. Pictured is a bowl of the Sichuan-style soup malatang.
China's mouth-numbing mala sauce has gained a massive following in Korea.

The word mala is a combination of the Chinese characters ma (麻), meaning "to numb," and la (辣), meaning "spicy." This "hot and numbing taste" is a flavor characteristic of Sichuan cuisine of southwestern China, a region whose food is known for being spicy. Mala sauce, made by adding Sichuan pepper (hua jiao) to chili oil, has a spicy aroma and a fiery taste.

Just a few years ago, restaurants in Korea specializing in mala dishes could only be found in Seoul's Daerim-dong, a neighborhood inhabited by a large ethnic Chinese community, and the alleyways of a small-scale Chinatown near Konkuk University. More recently, such restaurants have popped up all over Seoul, especially on the busy streets of Gwanghwamun, Yeouido and Gangnam Station. Around lunch hour, a steady stream of customers can be seen flowing into these establishments.

Korea's mala craze is trending on social media. A search for "malatang" on Instagram on July 16 showed some 258,000 posts featuring shots of the hot dish from every angle. With a growing number of hardcore mala fans, newly coined terms like "blood mala concentration" and masegwon, a portmanteau of the words mala restaurant and yeoksegwon (the value of real estate depending on proximity to a subway station) have entered the social media landscape.

The range of mala dishes available has grown more diversified as well. Diners can easily choose from malatang, a build-your-own-soup in mala broth, as well as mala xiang guo, a stir-fried dish with ingredients cooked in mala sauce, and mala long xia, or stir-fried mala crayfish. There's an entire buffet of ingredients to pick and choose from that come together in a variety of textures and flavors.

"They say you either love or hate malatang, and in my case, I've caught the love bug," said Koo Kyoungna, a 20-something office worker. "The malatang you get in Korea has just the right level of spiciness and matches well with Korean taste buds. I like that you can pick your own ingredients and how your self-served portion determines your bill."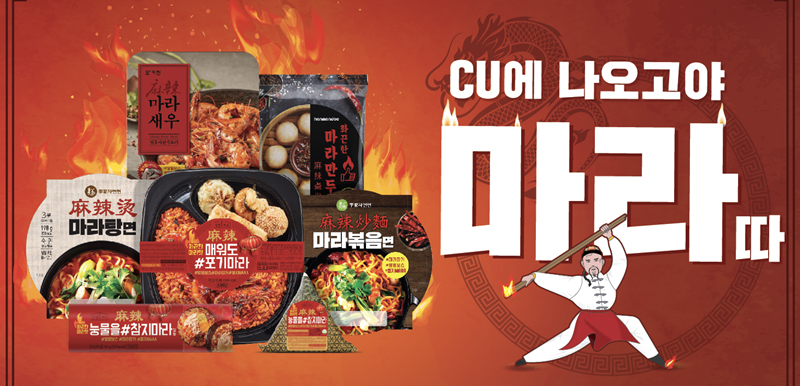 With mala mania growing in Korea, distributors have released new products flavored with mala sauce such as cup noodles and a wide assortment of snacks. (CU)
Food distributors are also taking advantage of the mala boom, releasing new products that use mala flavoring. Convenience store chains like CU and 7-Eleven have stocked their shelves with microwavable dishes like pig feet in mala sauce and mala-flavored chicken feet and noodles. Mala-flavored snacks include cup noodles,
samgak gimbap
(triangular-shaped rice rolls) and potato chips. Popular fried chicken chains like BHC and Goobne have added options flavored in mala sauce to their menus.
A new type of instant ramyeon, Pogihaji Malatangmyeon, uses the mala craze and Korean pro baseball's cheering culture in the product's concept. The item's name is a play on words combining the Korean phrase "
pogi hajima
" (don't give up),
malatang
and
myeon
(noodles). The brainchild of domestic food giant Pulmuone and the Hanwha Eagles, a leading baseball team in Daejeon, the noodles were released in early July to huge success.
"We developed the idea for the new product because malatang is trending among consumers and mala goes so well with noodles," said Lee Gi-Uk, a Pulmuone project manager who spearheaded the project. "Our first batch of supplies sold out just three days after we began online sales."
Food and hospitality industry experts say Koreans' love of spicy food and their tendency to seek out new flavors are the main reasons for the mala boom.
Shin Young-jin, head of marketing at La Huo Kung Fu, a
malatang
and
mala xiang guo
restaurant chain with over 80 branches since opening in 2010, said malatang, with its rich bone broth and spicy, mouth-numbing flavor, has struck a chord with Korean diners. "The dish arrived on the scene just when people were in need of a new culinary experience. Its exotic, fiery taste has gotten people hooked," she said.
"Until recently, mala restaurants were clustered in Seoul but the trend is now spreading to cities like Suwon, Seongnam and Incheon as well as other provinces," she added. "For now, the mala craze is here to stay."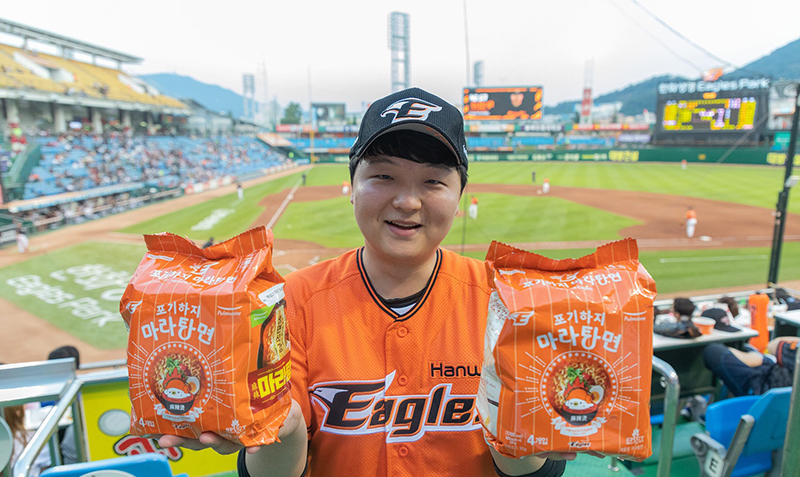 Lee Gi-Uk, a project manager at Pulmuone who spearheaded the so-called Pogihaji Malatangmyeon project, holds up his company's new product on July 5 in a launch event held at Hanwha Life Insurance Eagles Park in Daejeon. (Pulmuone)