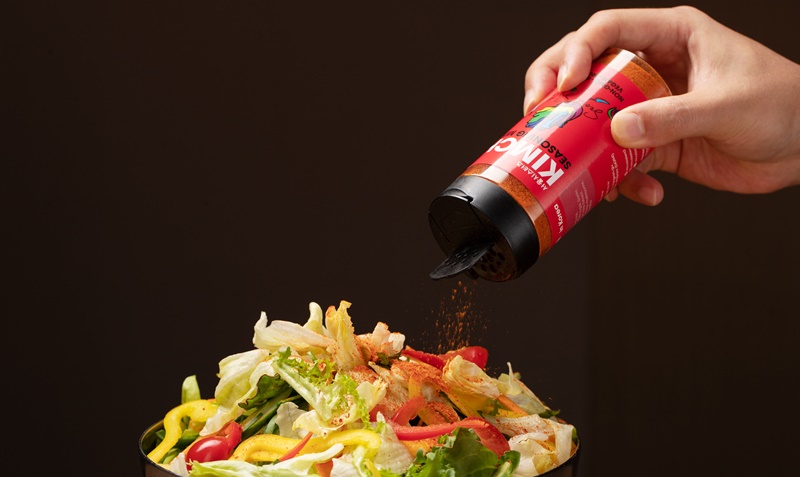 Kimchi Seasoning Mix eliminates the smell of kimchi and its salty taste, allowing non-Koreans to enjoy the spicy condiment more easily. This powder can be added to salad, French fries or chicken.
It looks like dried red pepper powder and doesn't smell like kimchi but when added to food, it tastes like kimchi. This is Kimchi Seasoning Mix.

As Korea's leading fermented food, kimchi contains a host of vitamins, minerals and calcium. With news of its nutritional value spreading worldwide, international demand for kimchi is steadily increasing. According to the Ministry of Agriculture, Food and Rural Affairs, kimchi exports last year rose 20% and 68 countries import the spicy condiment.

Many non-Koreans, however, avoid eating kimchi because of its strong smell stemming from the main ingredients such as salted seafood and garlic and due to the salty taste.

Kimchi Seasoning Mix is geared toward those who find it hard to eat kimchi. Food Culture Lab, the startup that created the powder, said not only does the seasoning have no bad odor and saltiness but is also free from gluten and genetically modified organisms. The item on Sept. 20 also won the silver medal for innovative products at the world's largest food expo Sial, which was held in India this year from Sept. 19-21.

The item's small container design is to maximize portability. The powder is also easy to use and can simply be added to popcorn or chicken, and diners can make kimchi salad or geotjeori (unfermented kimchi) when the seasoning is added to vegetables.

Foreigners who tasted food seasoned with the powder have generally given favorable reviews. Madina Sherniyazova from Kazakhstan, who said she cannot eat kimchi, said, "Since it doesn't smell like kimchi, it's good for those trying kimchi for the first time or who avoid it."
Mahmoud Hamdy from Egypt said, "If I didn't know this food was made with the seasoning, I might think that it was just regular kimchi food," adding, "There's a difference between kimchi made the traditional way and this powder, but the seasoning powder itself is tasty enough."

Park Chae-lin, head of the Culture Convergence Research Group at the Gwangju-based World Institute of Kimchi, said, "There might be opinions that (the seasoning) could harm kimchi's originality," adding, "But it's worthy of praise in that this kind of alternative product can provide an incentive to make foreigners curious over the traditional taste of kimchi."
Korea.net