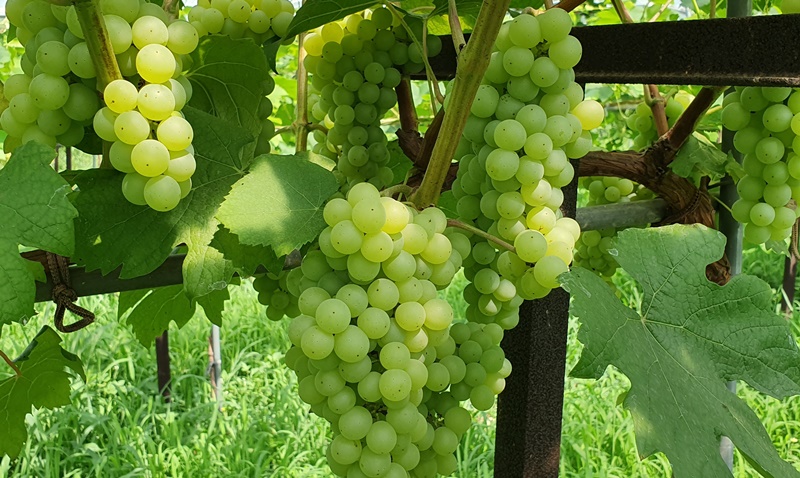 The Korean grape variety cheongsu is used for making white wine at many wineries in Korea. (Grand Coteau)
Though soju (distilled liquor) and makgeolli (milky rice wine) are famous in Korea, the country has around 150 wineries that produce wine.

Korean wine has been ignored or mocked because of poor surroundings for vine growing, rudimentary winemaking skills and failure to meet Western wine standards. Perceptions of domestic wine are changing, however, thanks to the continuous development of varieties and advances in winemaking techniques.

The distinctive characteristics of Korean wine are freshness and a wide selection of fragrances; such wines are made with a variety of fruits other than grapes such as raspberry, omija (magnolia berry), apple, persimmon, peach and kiwifruit. Wine experts have called Korean wine "an alcoholic drink made from indigenous Korean fruits after undergoing fermentation."

People who have tasted Korean wine are often surprised by its superiority and diversity, and ask those still prejudiced against the domestic variety if they have even tried such wine in recent years.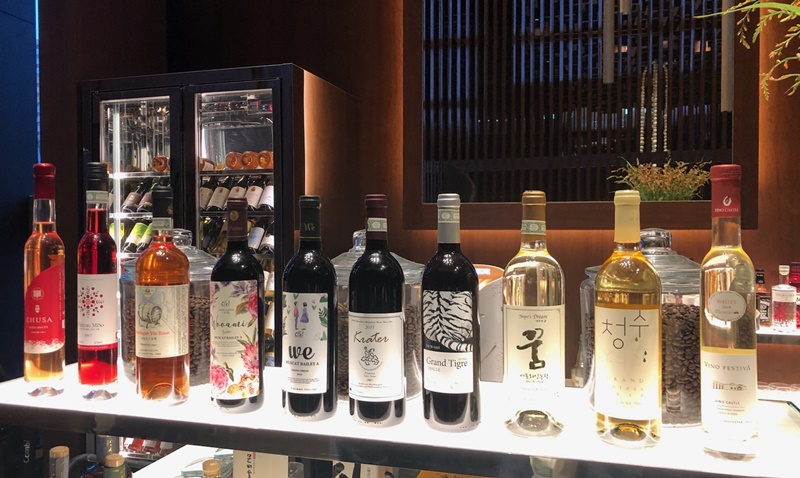 These ten Korean wines are sold at the JW Marriot Hotel Seoul. (Gwangmyeong Wine Cave)
Sommeliers and wine lovers who have discovered the charm of Korean wine have started to buy it. Such wine is seeing growing recognition thanks to steady sales and promotion by related businesses such as the Wine Cave in Gwangmyeong, Gyeonggi-do Province, a bar that exclusively sells Korean wine.

The distribution networks for Korean wine have also been diversified. Since July 1, 2017, domestic wine has been classified as a traditional liquor available for online purchase. From July this year, luxury hotels in Seoul such as the JW Marriott Seoul and the Plaza Hotel started to offer Korean wine.

Choi Jeong-wook, director of a think tank under Gwangmyeong Wine Cave, said, "Wines have been developed to match a country's food and culinary culture," adding, "Wine with high acidity and tannin as well as heavy body is good for Western dining tables but might differ in standards for Korean ones."

"Delightful aroma and light body comprise the taste of Korean wine," he added. "Korean wine, like Korean food that features spicy and salty food like various side and soup dishes, gochujang (hot pepper paste) and ganjang (soy sauce), goes well and harmoniously with Korean food."

With the globalization of Hansik (Korean food), he said he expects bright prospects for Korean wine, which he said perfectly blends with the taste of Korean food.

Places where people can try Korean wine are the Wine Cave in Gwangmyeong, Muju Meoru Wine Cave in Muju-gun County, Jeollabuk-do, and Cheongdo Wine Tunnel in Cheongdo-gun County, Gyeongsangbuk-do. From Oct. 3-6, the Korea Wine Festival will be held at Yeongdong-gun County, Chungcheongbuk-do Province, an area famous for grapes.
Korea.net