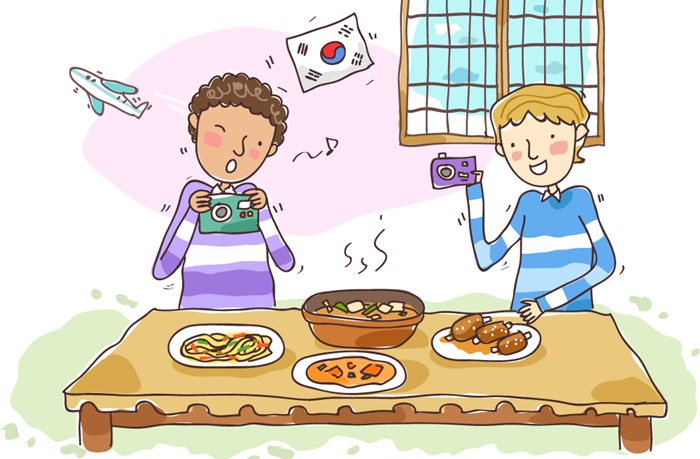 A 2018 survey on tourist satisfaction has found that foreign visitors ranked "Korean food and drink" as their top experience in the country. (iClickart)
Foreign tourists in Korea last year say they were most satisfied with their culinary experiences and thus spent the most on food, according to a 2018 joint survey of tourist satisfaction released on May 8 by the Ministry of Culture, Sports and Tourism and the Korea Tourism Organization.

Conducted at international airports and ports in the country throughout last year, the study showed that most foreign tourists spent their time shopping (92.5 percent) and eating (71.3 percent).

Among activities seeing the highest satisfaction among foreign tourists, shopping, which topped this category in 2017, saw its share drop from 28.2 percent two years ago to 22.2 percent last year. Meanwhile, the share of culinary travel increased from 19.6 percent to 29.3 over the same period. Spending on perfume and cosmetics rose from 56.7 percent to 61.8, and that on foodstuffs grew from 41.3 percent to 55.5.

Meokbang, an internet fad in which viewers watch the host eat large amounts of food, as well as beauty vlogs featured on social media channels like Instagram and YouTube likely boosted the hype surrounding Korean food and beauty.

Since 2016, more foreign tourists have also expressed a higher likelihood of making return visits, staying longer and visiting provincial regions.

"We will work on adding foreign languages to public transportation maps in provincial cities and increase the accessibility of public Wi-Fi and other services so that visitors are more satisfied during their stays in Korea," a ministry official said.

More information on this survey can be found on the website below:
www.kto.visitkorea.or.kr

Korea.net