Six government organizations, including the Korean Food Promotion Institute, formerly known as the Korean Food Foundation, and the Ministry of Culture, Sports and Tourism, introduced their "10 Korean Recipes Loved Around the World" in September 2016, targeting non-Korean tourists who will visit Korea for the PyeongChang 2018 Olympic and Paralympic Winter Games. The aim is to help tourists enjoy Korean cuisine and widen their understanding of Korean culinary heritage. The 10 selected dishes constitute a complete Korean menu that contains the essential identity of Korean cuisine, while improving each individual dish's taste, convenience and appearance.
By
Yoon Sojung
Photos = Jeon Han
In cooperation with the Institute of Traditional Korean Food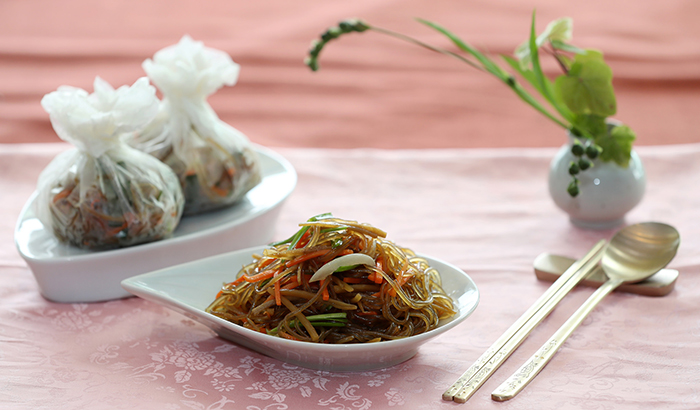 Japchae
is stir-fried glass noodles with sautéed vegetables. It's a very familiar and friendly dish for non-Koreans.
Japchae
used to be served at banquets or as a holiday feast. It was enjoyed in the royal Joseon court, too. Today, diners can enjoy various tastes in the dish, as different ingredients can create different flavors.
The recipe for simple
japchae
, one of the government's 10 selected recipes, was developed in order to maintain the taste and texture of the ingredients so that one can enjoy it more easily.
Director Yoon Sook-ja of the Institute of Traditional Korean Food said that, "The name 'simple
japchae
' implies that the recipe and preparation of the ingredients is easy and it's easy to eat."
"Thanks to the marinade made with unrefined and brown sugar used to stir-fry the noodles, the noodles don't get soggy. The marinade makes the noodles shiny instead. If you add other vegetables instead of meat, vegetarians can also enjoy the dish," Yoon said.
** Recipe for simple japchae stir-fried glass noodles with vegetables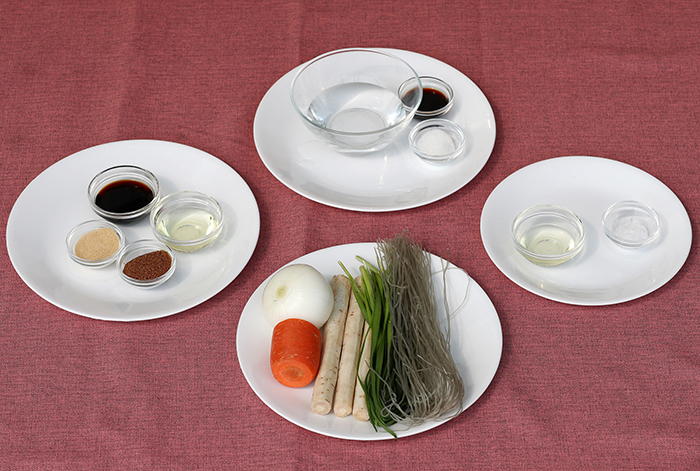 ** Ingredients (four servings)
Glass noodles 100g, water 4 cups (to boil the glass noodles)
Marinade for glass noodles: Unrefined sugar 1 tablespoon (12g), brown sugar 1 tablespoon (12g), soy sauce 2 tablespoons (36g), cooking oil 2 tablespoons (26g)
shredded carrots 80g, sliced onions 100g, salt 0.5 teaspoons (2g), chives 20g, cooking oil 1 tablespoon (13g)
burdock 80g
Marinade for burdock: water 1 cup (200g), soy sauce 1 tablespoon (18g), sugar 0.5 tablespoons (6g)
** Instructions
1. Put the glass noodles into boiling water for 5 minutes. Strain and rinse with cold water.
2. Put salt on the shredded carrots and sliced onions and stir fry. Chop the chives into 5 cm lengths. Wash the burdock. Peel it and slice it into pieces each about 5 cm long and 0.3 cm thick. Simmer over a medium heat with the marinade for 10 minutes.
3. Put all the ingredients for the marinade over some heat, and stir-fry the glass noodles until they are dry. Let them cool down.
4. Mix the prepared vegetables and glass noodles together and divide into single-serving portions. Wrap any extra with parchment paper and store in the refrigerator.
5. Reheat each portion in the microwave or steamer before serving.