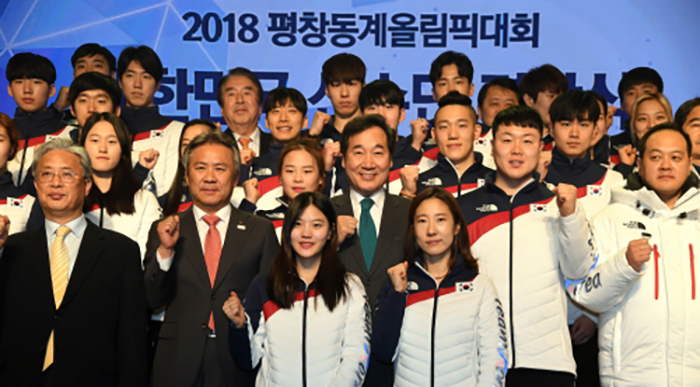 Prime Minister Lee Nak-yon (center) poses for a picture with members of Team Korea during its launch ceremony for the PyeongChang 2018 Olympic Winter Games, at the Seoul Olympic Parktel hotel on Jan. 24. (Prime Minister's Secretariat)
Korea's national athletes gathered for their inaugural ceremony on Jan. 24, with 16 days left to go until the Opening Ceremony at the PyeongChang 2018 Olympic Winter Games.

Held at the Seoul Olympic Parktel hotel, the ceremony was attended by around 150 athletes, as well as Prime Minister Lee Nak-yon, President Lee Hee-beom of the PyeongChang Organizing Committee, President Lee Kee-heung of the Korean Sport & Olympic Committee, and the head of the Korean athletic delegation, Kim Ji-yong.

"We hosted the Seoul 1988 Olympics over 30 years ago, and to host the Games again this winter on our soil is truly meaningful. For the PyeongChang 2018 Winter Games, Korea managed to qualify in all sporting events. As such, the most Korean athletes ever will compete in the upcoming Games," said the prime minister.

The prime minister pointed to North Korea's participation, Korea's 5G mobile networks and its robotics technology as some of the reasons for the world's renewed interest in PyeongChang.

"One of the biggest reasons why the Seoul 1988 Olympics and the 2002 FIFA World Cup were so successful is because our athletes and citizens came together as one. At PyeongChang, we should do the same, with athletes performing their best and citizens giving them their full support. Team Korea's success will give rise to PyeongChang's victory," he said.

Team Korea, whose 218 athletes will complete in seven events at PyeongChang, will move into the athlete's dormitories on Feb. 8.
Korea.net