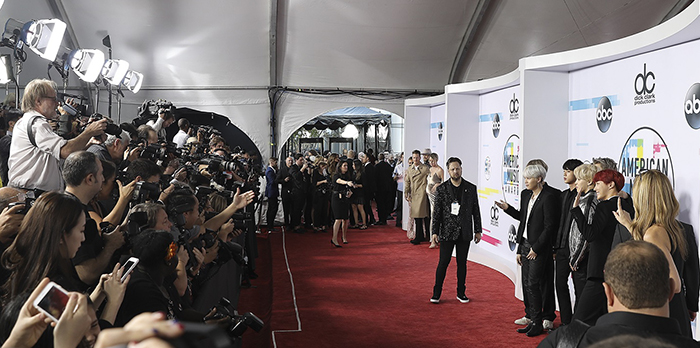 By
Kim Eun-young
and
Kim Young Shin
Photos = Big Hit Entertainment
Pop sensation BTS is enjoying a burst of popularity as it continues to appear on major U.S. TV shows.
On NBC's "The Ellen DeGeneres Show," ABC's "Jimmy Kimmel Live!" and CBS's "The Late Late Show," BTS has been introduced as, "The most popular boy group in the world." The pop group was also invited to perform at the 2017 American Music Awards.
CNN Today talked about the group's popularity in an interview with Professor Suk-Young Kim from the UCLA School of Theater, Film and Television on Nov. 20. "They are probably the largest, most popular K-pop band at the moment, thanks to their very dedicated army of fans, actually named 'Army'," said Professor Kim. She said that BTS's sophisticated music videos, their story of coming-to-age as an underdog of the industry, and their ability to self-produce appeals to their teen fanbase.
BTS's album "Love Yourself 承 'Her'" (2017) ranked 7th on the Billboard 200 chart within the first month of its release. Also, the remix of the song "MIC Drop," released on Nov. 24, topped the iTunes Top Songs chart in 50 nations, including the U.S., Canada and Brazil.