All Koreans speak and write the same language, which has been a decisive factor in forging their strong national identity. Korean has several different dialects in addition to the standard variety used in Seoul. Only the dialect of Jeju-do Province, however, is so different that it is difficult for others to understand. Linguistic and ethnological studies have classified the Korean language in the Altaic language family, which includes the Turkic, Mongolic and Tungus-Manchu languages.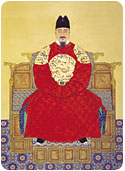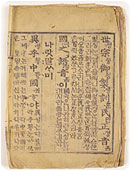 King Sejong the Great (1397-1450) of Joseon Dynasty (1392-1910) commissioned a research team of scholars and helped create "Hunminjeongeum" the Korean alphabet in 1443 and proclaimed in 1446. The term literally means the Correct Sounds for the Instruction of People.
(←A portrait of King Sejong(1397-1450), the creator of Hangeul )
(Hunminjeongeum, meaning "The Correct Sound to instruct people" was the first book to introduce Hangeul, the Korean alphabet system.→)
Before its creation, only a relatively small percentage of the population was literate; few could master the difficult Chinese characters in Korea known as "Hanja" used only by the upper class.
Before developing a Korean writing system, King Sejong studied several writing systems known at the time, such as Uighur and Mongolian scripts and old Chinese seal characters. The system that Joseon scholars came up with, however, is predominantly based upon phonology. Above all, they developed and followed a theory that divided each syllable into initial, medial and final phonemes, as opposed to the bipartite division of traditional Chinese phonology.
During the Japanese colonial times (1910-1945) when Japan took control over the nation and forced its language upon people, many Korean intellects gathered together to refurbish Hunminjeongeum for the public.
Ju Si-gyeong (1876-1914), one of the modern linguists who played a main role in standardizing Hunminjeongeum, coined a new name for King Sejong's alphabet:"Hangeul"
The newly re-organized Hangeul, with 14 consonants and 10 vowels is simple, yet systematic and comprehensive, thus considered one of the most scientific writing systems in the world. As it is easy to learn and write, the system has greatly contributed to Korea's high literacy rate and advanced publication industry.
The Korean language belongs to the Altaic language family like Mongolian and Japanese. There are about 75 million people in the world who speak Korean, and according to a statistical ranking done in 2002, Korean is the 13th most spoken language in the world.
Hangeul is the Korean writing system. It is similar to the Latin alphabet, inasmuch as each individual symbol represents a single sound, not an idea.
As with many languages, Hangeul is written left to right. However, instead of each individual symbol being written next to each other on the same horizontal line, the symbols are grouped into characters, and each character consists of at least one consonant and one vowel symbol, representing a syllable. Thus a word of three syllables is written in Hangeul with three characters, each one composed of individual consonant and vowel symbols.
Hangeul was devised by King Sejong the Great (r. 1418-1450), who wanted his people to have a writing system of their own. At that time, the learned and noble people wrote in classical Chinese.