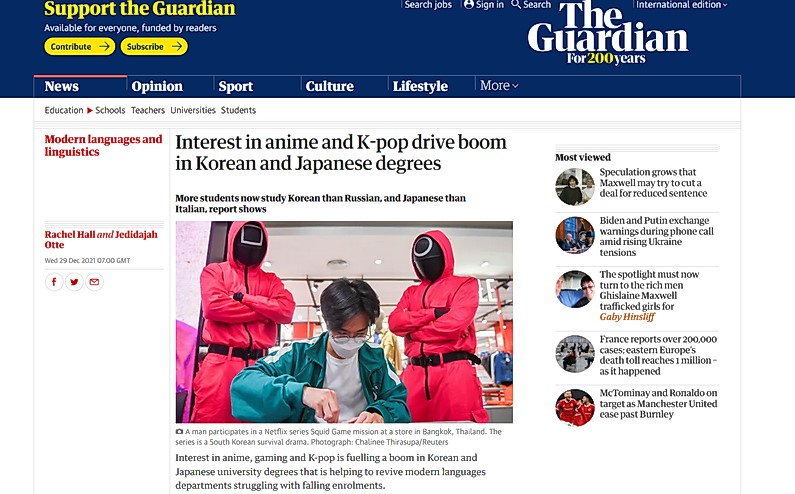 The U.K. daily Guardian on Dec. 29 said the number of students of Korean at British universities has tripled. (Screen capture from Guardian)
Sizzling global interest in Hallyu content like BTS, the Oscar-winning film "Parasite" and hit Netflix series "Squid Game" is fueling a surge in the number of people in the U.K. studying Korean at universities, according to a British daily.

"Acceptances to study Korean more than trebled from 50 to 175 between 2012 and 2018," The Guardian reported on Dec. 29, citing a report by the University Council of Modern Languages of the U.K.

"More students (in the U.K.) now study Korean than Russian."

Experts said the surge in Korean majors is due to the popularity of Hallyu content such as K-pop, "Parasite" and "Squid Game," with such content "boosted by their accessibility on platforms such as Netflix and Spotify."

BTS' music video "Dynamite" racked up 101.1 million views within a day after its release in August 2020, breaking the YouTube record for most hits within 24 hours.

"Squid Game" is the most watched Netflix TV series in English-speaking countries, with 1.65 billion streaming hours viewed in four weeks since its release on Sept. 17.

Jaeuk Park, a Korean lecturer at the University of Leeds, said that that though some students are interested in Korean because of North Korea, people generally start studying the language due to their love for Korean pop and dramas.


Korea.net