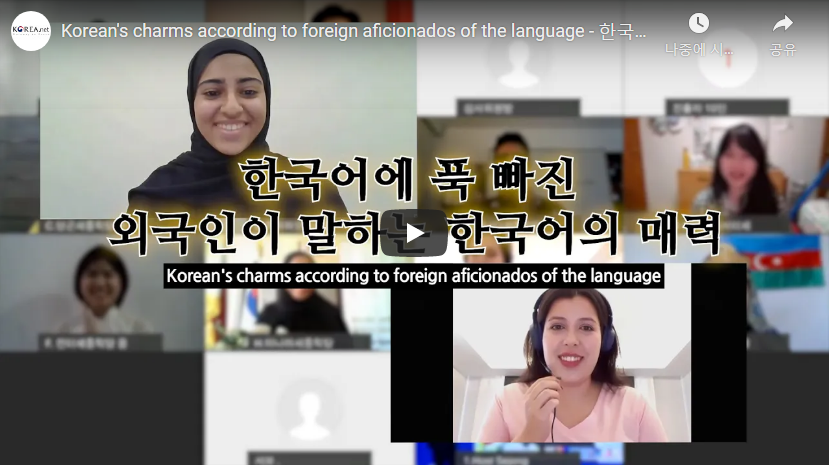 "Korean is a language that's great for expressing feelings. It also has so many types of verb endings that fine-tune a sentence. It's surprising and wonderful."

This is why Zaharia Jaafar Ali Alsafi, the grand prize winner of this year's King Sejong Institute Korean Speech Contest held online on Oct. 8, loves Korean.

A student from Bahrain who began studying Korean four years ago, she won the competition with her speech on the topic "Koreans I've Met and Will Meet." She elaborated on how Koreans often compliment each other, have quick nunchi (the ability to perceive what others are thinking or feeling) and are sincere.

Korea.net on Oct. 29 held a 30-minute online interview with Alsafi, who spoke from Manama, Bahrain, to find out how a native Arabic speaker has exceled in a language with completely different consonants, vowels and a writing system. She spoke about her experiences in fluent Korean with clear pronunciation and advanced vocabulary.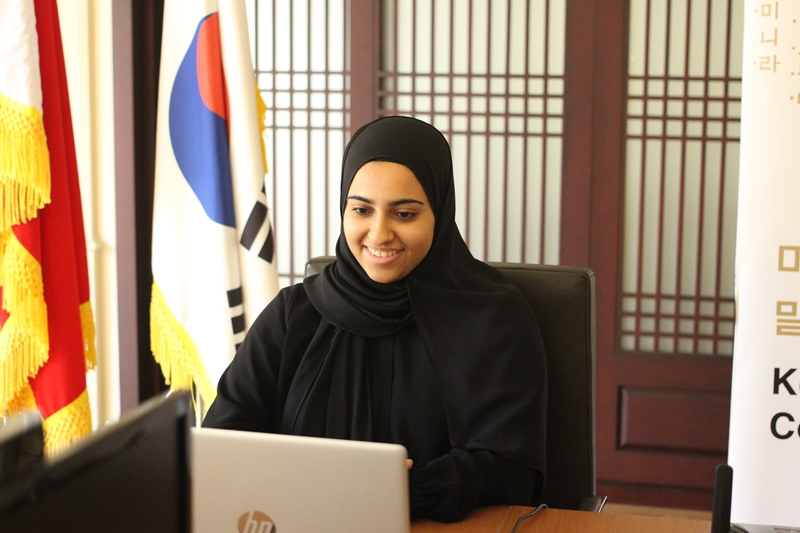 Zaharia Jaafar Ali Alsafi, the grand prize winner of this year's King Sejong Institute Korean Speech Contest, on Oct. 8 gives her final speech at the institute's branch in Manama, Bahrain. (Zaharia Jaafar Ali Alsafi)
Alsafi said she never expected to win, adding that she was happy and honored over the "great result" that came after she gave her best shot.

On when she first heard Korean spoken, she shouted "Running Man!" a Korean variety show that has risen in popularity across Southeast Asia and the Arab world. Watching her favorite show often, she said was naturally exposed to Korean and fell in love with the Korean subtitles, written in cute-looking letters with many circles.

With the show as her starting point, Alsafi did self-study in Korean through online videos for three years. Since last year, she has taken a two-hour class twice a week at the King Sejong branch in Manama, Bahrain, while majoring in architecture at university.

The institute teaches Korean and spreads Korean culture through its 213 branches in 76 countries.

Aside from classes in Korean, Alsafi spends about an hour a day memorizing vocabulary from books she reads or watches YouTube videos to pick up newer and mainstream words.

While often at a loss for words when speaking Arabic or English, she said she can express her feelings more precisely in Korean. Her favorite Korean word is maeum, which has several meanings, because "it carries a person's feelings, thoughts, emotions and mood all in one."

What Alsafi found most difficult about Korean was its onomatopoetic and mimetic words, but she constantly looked up unfamiliar terms and used them in real conversations as much as possible. Thanks to her hard work, she said she can respond to any question without hesitation.

On learning tips for students of Korean, she said, "It's important to learn about Korean culture and Koreans in depth. Think of yourself as a child learning a language for the first time and try to be patient."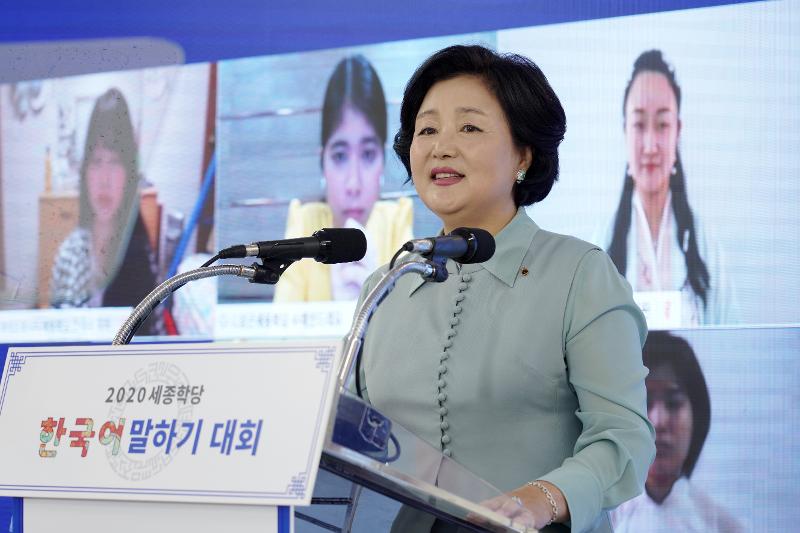 First lady Kim Jung-sook on Oct. 8 gives a congratulatory speech at the finals of the 2020 King Sejong Institute Korean Speech Contest at the National Hangeul Museum in Seoul's Yongsan-gu District.
Alsafi recalled the speech of first lady Kim Jung-sook at the finals of the competition, where the first lady said, "We may be in different places but because we're connected through Korean, the distance between our hearts is 0 m." The Bahraini agreed that fluency in Korean means the ability to express one's feelings without a sense of distance.
She added that she wants to become someone who helps improve relations between Korea and Bahrain.

Alsafi said she is reading "The Temperature of Language," an essay collection by Lee Ki Joo that discusses how the "temperature" of a person's words and writing can "warm or chill" the listener's heart.
"I still don't think my Korean is that good. That's because the minute I believe I'm good, I'll stop studying. I plan on continuing to learn and telling myself I have room for improvement," she said.
Korea.net